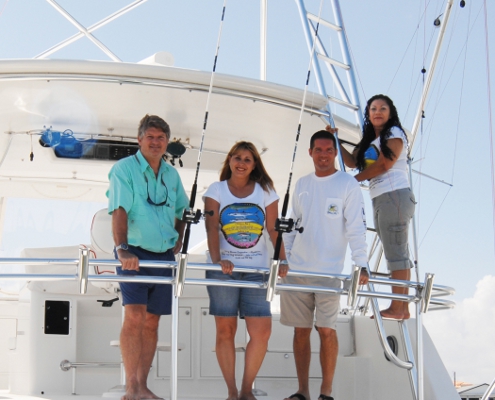 VERO BEACH — The 7th Annual Offshore Big 3 Fishing Tournament to benefit Hibiscus Children's Center will be held Friday and Saturday, June 3 and 4 at the Ft. Pierce City Marina.
The tournament will again coincide with the downtown festivities of Friday Fest and the popular Saturday morning Farmers Market.
There will be a mandatory Captain's Meeting and Reception held on Friday, June 3 at the Fort Pierce Community Center. Registration will open at 3 p.m. and the festivities will begin at 6 p.m.  The Captain's Meeting will be held at 7 p.m. and will be immediately followed by the calling of our Charity Raffle and Silent Auctions.
The tournament excitement continues on Saturday, June 4 with boats checking out of the Fort Pierce, St. Lucie, and Sebastian Inlets. Check out begins at 6 a.m. Anglers must bring their catch by boat to the Ft. Pierce City Marina. Weigh-in begins at 3 p.m. and ends at 5 p.m.
Exciting new additions are in the works for the tournament this year. Already one of the most highly anticipated tournaments on the Treasure Coast; we have joined forces with the Ft. Pierce Saltwater Classic Tournament to make our event one of the most highly anticipated in the state. The Classic is sanctioned by the Southern Kingfish Association and is a part of the eight tournament Saltwater Classic Series run by Blue Water Promotions.
By combining with the Ft. Pierce Saltwater Classic, anglers will have the opportunity to win big dollars as part of a $20,000 payout, much higher than in years past! Anglers can compete for SKA points if they choose but are not required to do so. It's still the same great tournament but with exciting new competition possibilities. Through tournament participation all anglers will be helping put an end to child abuse and neglect in our community by supporting the good work of Hibiscus Children's Center.
Tournament Chair Andy Ingle couldn't be more excited about the changes to the tournament. "We are proud to partner with the Ft. Pierce Saltwater Classic this year and offer our anglers the chance to participate in a tournament with increased chances to win big," he said. "Our sponsors are going to get so much more publicity as part of this partnership. It's truly a win-win for everybody!"
Sponsorship opportunities are available at all levels and provide businesses and individuals with recognition in pre and post event publicity, major promotional opportunities at the event, website presence, tournament tee-shirt advertising and more.
For information on how to become a sponsor, or for more information about the tournament, call Angela Astrup at 772-978-9313 x. 313.
You may also visit the Hibiscus Children's Center website at www.hibiscuschildrenscenter.org to view complete tournament and sponsor information. To register for the tournament online, visit www.saltwaterclassicseries.com.