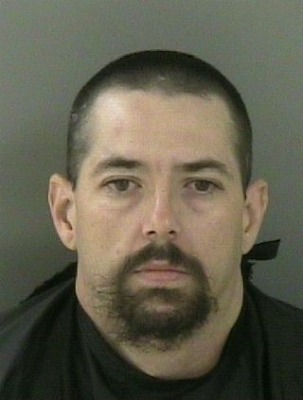 VERO BEACH – A mobile meth lab was shut down Tuesday evening after a Vero Beach police officer pulled over the vehicle for speeding.
The officer became suspicious when a passenger in the vehicle attempted to conceal something, and when the passenger stepped out of the vehicle, a baggie of white powder later identified as methamphetamine was seen on the seat of the car, according to the incident report. Drug Enforcement Agents were later called to scene when a garbage bag containing the makings of a meth lab were discovered in the vehicle.
"Due to the potential danger and (i)nstability," the investigating officer left the bag on the ground rather than continue searching it, the officer wrote in his report.
Upon investigating the contents of the bag, DEA officials informed the Vero Beach Police Department that there was a "fully functional meth lab" inside the vehicle, according to the report.
Officers arrested both passengers, Laura Lee Scott, 31, of 43rd Court, Vero Beach, and Joseph Craig Ruisard, 30, of Indiana. The driver was not arrested.
Vero Beach Police initially stopped the vehicle for driving 38 mph in a 30 mph zone. The officer then noted the windshield was severely cracked and could pose a danger.
When the officer came up to the vehicle, he noticed that Scott was trying to hide something down her pants. She was later taken into custody, where she handed over six oxycodone pills she had hidden in crotch area, the report said.
A K-9 unit was called to the scene at the 1600 block of Old Dixie Highway, which alerted to both the passenger's door and the front driver's side door.
Upon questioning the driver and another passenger and searching the vehicle, officers found a white garbage bag on the floorboard of the front passenger's seat that contained the makings of meth.
Ruisard told officers that someone he knew had been "cooking meth" and had asked him to dispose of some of the evidence. For his trouble, he was given 1 gram of meth, he told investigators.
Ruisard was arrested and faces felony charges of manufacturing methamphetamine and unlawful possession of a listed chemical. He is being on $55,000 bond at the county jail.
Scott is being held on $10,500 bond for felony charges of methamphetamine and oxycodone possession.