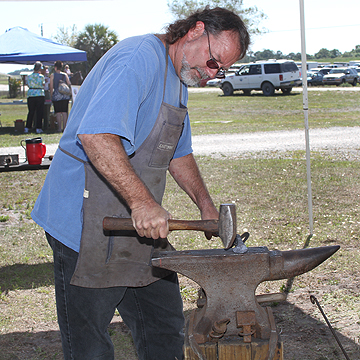 FELLSMERE – A few hundred people traveled to the St. Sebastian River Preserve State Park Saturday to learn about all the park has to offer during the Seventh Annual Goby Fest.
Goby is the mascot for the nature festival, the name of a fish species found in both salt and fresh water habitats, including the St. Sebastian River – it serves another purpose.  
"Go be a hiker," said Gayle Heath, park service specialist, playing off the fish's name. "Go be a volunteer."
More than 50,000 people use the park on an annual basis, yet far more people don't even realize it exists, according to Heath.
"Nobody knows we're here," she said.
The preserve's entrance is located just inside Indian River County off Babcock/County Road 507 across from the C-54 canal in north Fellsmere.
The park boasts 22,000 acres and 60 miles of trails for hikers, bikers and horseback riders, as well as primitive camp sites.
Earlier this year, the preserve had been on the chopping block – on a list of state parks to be closed due to state budgetary constraints. A study, however, showed how economical the St. Sebastian River Preserve is and it was spared from closure.
Concern for the park's future was the last thing on Chad and Brooke Reynolds' minds Saturday. The 4- and 2 ½-year-olds wanted to see the horses.
"I like horses," Chad said.
"We want to ride horses," Brooke added.
Their parents, Shane and Melissa Reynolds, brought them out to Goby Fest to enjoy the sunshine and fresh air.
"It's beautiful," Shane said.
The Reynolds recently relocated to Vero Beach from California where there are similar – but larger – events.
They said they were enjoying the day and might come back again next year.
"I don't see any reason why not," Shane said.
Along with taking hay and tractor rides around the preserve and visiting informational booths from the Department of Environmental Protection and the Humane Society of Vero Beach and Indian River County, visitors to Goby Fest shopped a handful of booths.
such booth was The Water's Edge Creations, based in Sebastian. A mother-daughter venture, they sold beaded artwork, including unique windchimes.
"We like doing the outdoor festivals," Terri Cosner said, while her mother, Carol Frey, sat nearby.
"We're meeting new people," Frey said.
For more information about the St. Sebastian River Preserve State Park, call (321) 953-5005 or visit www.FloridaStateParks.org. The park's official address is 1000 Buffer Preserve Dr., Fellsmere.
Park hours are 8 a.m. to sunset daily.
For information about Citizens for the St. Sebastian Preserve, a volunteer group that provides support for the park, visit www.nbbd.com/npr/cpa or call (321) 953-5004.