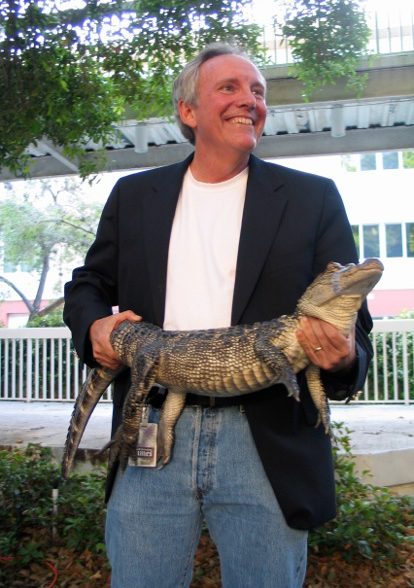 VERO BEACH — The Emerson Center Humanities Series concludes its 2010-2011free series on Thursday, April 21, at 7 p.m. with Jeff Klinkenberg, a master Florida storyteller.  Klinkenberg, who writes about Florida culture and the people who make the state unique, will talk about "Pilgrims in the Land of Alligators," about the role of the alligator in Florida culture.
Klinkenberg's interest in Florida began when he was a small boy growing up in Miami on the edge of the Everglades. He started working at the St. Petersburg Times in 1977 and still works there.  Klinkenberg is also the writer-in-residence for the University of South Florida's "Florida Studies" program and has written for many magazines, including Travel & Leisure, Audubon, Esquire and Outside.
He has also been an adjunct professor at the University of Florida, and is the author of numerous essays, including a recent collection called Pilgrim in the Land of Alligators. An anthology he published earlier, Seasons of Real Florida, was a bestseller.
The Florida Humanities Series, sponsored by Marine Bank & Trust, is presented by the Emerson Center at the  Unitarian Universalist Fellowship in Vero Beach.
More than 20 acclaimed speakers and performers have been presented at the Center since the fall of 2007 with presentations relating to Florida history and issues. Admission to each has been complimentary.
The capacity of the Emerson Center is more than 800; free admission will be offered on a first-come-first-served basis.  Reserved seating for season ticket holders of the Celebrated Speakers Series will be offered with prior telephone arrangements.
For more information, call 772-778-5249.