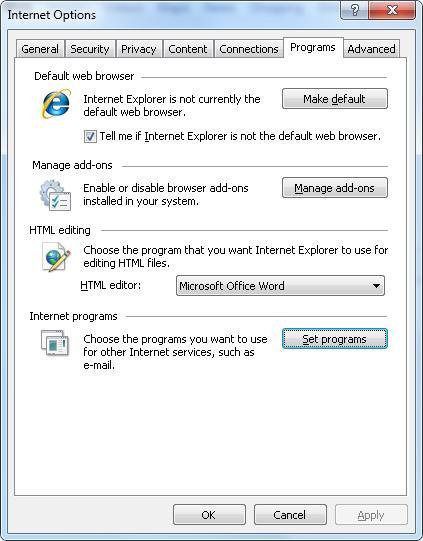 How to configure your Internet Explorer so that you can an e-mail a link using your Outlook, Outlook Express, Windows Live Mail or webmail.
I taught someone how to do this the other day, but it was Firefox instead of Internet Explorer, but the principles are the same. Same goes for Google Chrome. A lot of times we are surfing the net and find a website we want to send to someone via e-mail. One thing to always keep in mind, our web browsers are created to work with e-mail, whether it be Outlook, Outlook Express, or Windows Live Mail (which goes with Windows 7, it's the "new" Outlook Express).
The way to make sure the default uses the e-mail we are using is to set it up that way. First open Internet Explorer (or whatever browser you are using). Go to "Tools", "Internet Options" and then choose the "Programs" Tab.
Choose the "Set programs" button
Choose "Set your default programs". I use Outlook for my default e-mail.  So I choose Outlook and then below it will ask to set it as default.
So easy to do, very simple if you know where to look and now you do. As you can see, other e-mail clients are listed as the Windows Live Mail (since I have Windows 7).
This is similar for other browsers. Always start in Tools, everything should be listed there for you.
Now, in Internet Explorer, at the time you will see File, Edit, Etc. Choose File.
Then listed will be "Send To". Choose send "link by e-mail. Whoo hoo you are done!!!!! Type out your message, and who you want it sent to and hit send.
Now your friends and family will think you are a super star!!!!
Please let me know if you have any questions!!!!
Happy Computing!!!!!
Ressa Kinnear