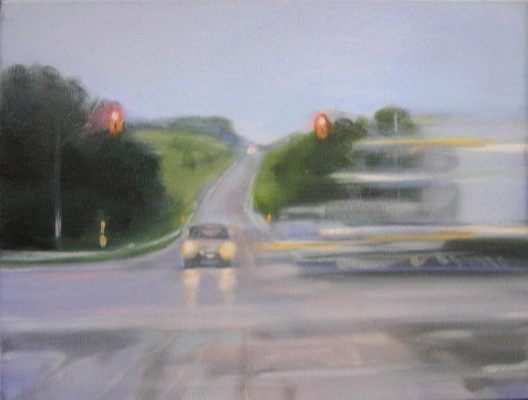 VERO BEACH — The Artists Guild Gallery proudly presents Point of View paintings in oil and mixed media by award-winning artist Diana Hillman of Vero Beach and Ontario, Canada. The exhibit will be on display in the Guest Artist Gallery April 1 through April 30.  An Opening Reception, which is free and open to the public, will be held Friday, April 1 from 5 to 8 p.m., coinciding with the 3D District's Gallery Stroll along 14th Avenue. Diana Hillman grew up in Montreal where she studied at the Museum of Fine Arts School, taking courses in photography and film-making as well as studio art.  Later in Britain she attended the City and Guilds of London School of Art and Design, and received training in drawing, painting, sculpture, etching, bas-relief carving, calligraphy, history of art and chemistry of paint. Three years ago Hillman re-discovered oil painting, and she continues to explore oils and other media through workshops and courses at the Vero Beach Museum of Art.
Much of Hillman's recent work was inspired by her travels to and from Ontario and Vero Beach, where she and her husband Tony have spent part of their winters since 1997.  Always on the lookout for something interesting to paint, she scans the landscape through the car window trying to capture a scene as it whizzes by.  Her haunting and provocative paintings of these scenes evoke a feeling of isolation and déjà vu, and her minimal use of color provides a stark yet peaceful image which leaves many places for the eyes to rest and the soul to meditate.  Most viewers can relate to these melancholy images as part of everyday life, reminding them of past road trips and travels.
Hillman holds memberships in the Vero Beach Museum of Art and several arts organizations in Ontario.  She is founder of the Annual Headwaters Arts Festival and has chaired many art exhibitions and cultural events.  She is a Director of the Caledon Heritage Foundation, and is busily working on several art and culture-related projects in Ontario.  Hillman has earned several awards for her work, and in the fall if 2009 her painting "Kennedy Road Looking North," graced the cover of "In the Hills" Magazine.
"Art," Diana says, "is a way to mirror the world, to get people to see it the way the artist does-capturing the beauty in everyday scenes and glimpses of fleeting moments in time."
New works by Artists Guild Gallery Members and Consignors will also be on display in a vast array of styles and mediums, including sculpture, ceramics, jewelry, pottery, glass and prints.  The largest and most diverse gallery in Vero Beach, it is located at 1974 14th Avenue.  Hours are Monday through Friday 10:00 a.m. to 5:00 p.m., and Saturday from 11:00 a.m. to 3:00 p.m., and by special appointment.
For further information, including the Gallery art class schedule, call 772-299-1234, or visit www.artistsguildgalleryverobeach.com.