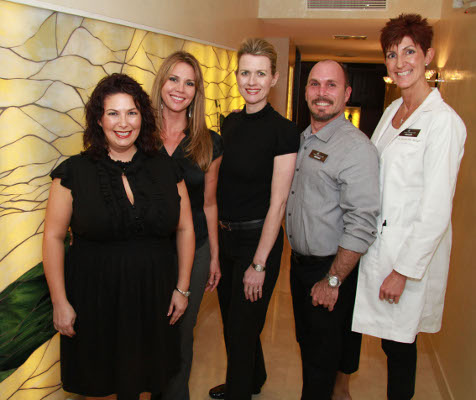 VERO BEACH — White Orchid Spa, located at 3500 Ocean Drive at the Vero Beach Hotel & Spa, recently opened its doors and is now welcoming clients with an extensive menu of services and products.
Embracing the theme "Earth, Sea and Science" – White Orchid Spa brings the best of these elements to the forefront of everything they do – from the sustainable materials incorporated into the design of the spa to the eco-friendly skin and hair care products that are used throughout the spa and salon and available for sale.
Although White Orchid Spa opened in early February, the highly qualified staff of 23 is comprised of well-known specialists that have been working with local clients for many years. Meredith Harris, ARNP, Manager of Medical Aesthetics, provides the medi-spa services overseen by Dr. Roger E. Bassin, Medical Director; and Healther Howle and Tracy Harris have been styling and coloring hair in Vero Beach for over 20 years collectively.
Head-to-toe salon and spa services are offered for skin, hair and nails, as well as therapeutic facials, massages and body treatments. Privé hair products and Thalgo and Image skincare products are used exclusively.
A full spectrum of rejuvenating and medically guided services are customized through individual treatment plans.  Botox Cosmetic, medical-grade skin peels and a variety of dermal fillers provide youth restoring results under the gentle, artful hand of the nurse practitioner. Laser and light-based procedures include permanent hair removal, photo rejuvenation, skin tightening, next-generation skin resurfacing and body contouring.  A unique on-site pharmacy includes prescriptive skin care products and Latisse, FDA approved for eyelash enhancement.
"It is our mission to go beyond our client's expectation to create an experience that absolutely 'wows' them and leaves them wanting more. The spa's design embraces our vision to create an oasis of tranquility that restores balance and rejuvenates the senses," explained Kelly Donovan, Founder and Co-Owner of White Orchid Spa.
Attention to every detail was overseen by Fettig's Construction, a local firm that was commissioned to build-out the 6,000 sq. ft. spa and fulfill New World Design Builders architectural plans to create this oceanside oasis that overlooks the azure waters of the Atlantic Ocean. Designer details include custom-made wall coverings, recycled leather flooring, original wall designs in the Signature Suite for two by local artisans at Eco-Colour, and striking back-lit stained glass artwork that adorns the hallways, which were created by artist Bill Pirolo. Specially appointed treatment rooms and women's and men's locker rooms provide a serene atmosphere that include private pre- and post-treatment relaxation areas.
For more information, call 772-231-1133 or visit whiteorchidspa32963.com.