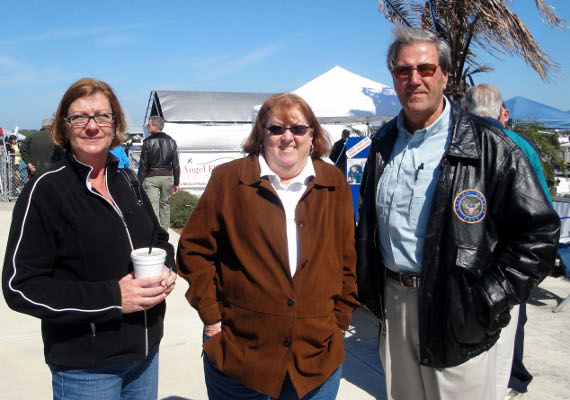 VERO BEACH — The Exchange Club of Indian River Foundation held its Second Annual WinnerFest Raffle on Saturday, Feb. 12, during Aviation Day at the Vero Beach Municipal Airport. Ryan Overcash was the lucky winner of the grand prize which included a 32GB Apple iPad with Wi-Fi, and a night in the luxurious oceanfront Costa d'Este, a $250 gift certificate from the White Orchid Spa at Vero Beach Hotel and Spa, a New Vision Aesthetics treatment, gift certificates for meals at Cobalt, Riverside Café, and Sonya's at Disney's Vero Beach Resort plus a Disney Character Breakfast for Four.
Other prizes awarded included a PaperJamz™ band set, bikes, Nintendo DSi systems, an Apple 8gb iPod Nano, and other exciting toys and games. R.J. MacMillan was the chair of the event, which was rescheduled from December 18 because of inclement weather.
Exchange Club of Indian River members distributed hundreds of small American flags to the children attending Aviation Day as part of the club's Project GiveAKidAFlagToWave. This program, an Americanism project of National Exchange Club, is designed to help children cultivate a deeper sense of patriotism and heighten their appreciation of and admiration for the flag of the United States of America.
Proceeds of the Raffle benefit the Foundation's local charities for the prevention of child abuse.
For additional information, call Andrew Molloy at (772) 473-4416 or visit www.exchangeclubofindianriver.org.