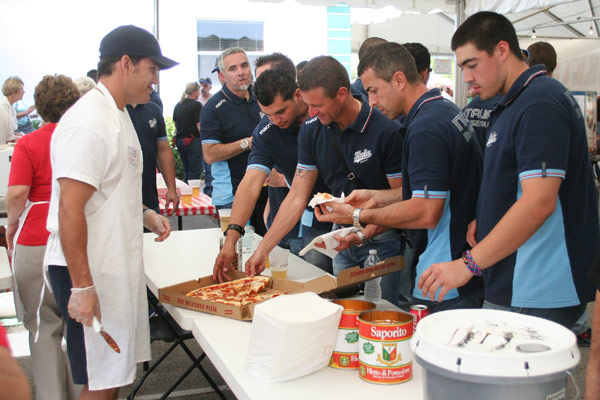 INDIAN RIVER COUNTY – A hungry mob will continue to descend upon the Italian-American Civic Club for the third straight day as the club wraps up its 26th Annual Italian-American Food Festival.
The event brought out those who were seeking a taste of home, or something akin to it – the Italian National Baseball Team, which is in Vero Beach for about two weeks for training at the Vero Beach Sports Village.
"It's nice," said Outfielder Stefano Desimoni. "It's not home" but very similar.
The team took a break from training Saturday afternoon to attend the festival. Being from Italy and there being an Italian food festival, it only seemed natural for the team to come out, according to Festival Co-Chair Bill Conforti.
"It just worked out nicely," Conforti said of Italy's Olympic baseball team's ability to visit the festival.
Third Basemen Giovanni Pantaleoni said it was encouraging to see Americans take pride in their heritage.
"It's something we lost," he said of Italians' own enthusiasm for their homeland.
Conforti said that the annual festival serves as the club's largest fund-raiser, which supports their ability to provide scholarships and further help the community.
The festival kicked off Friday with wet weather, but the club wasn't disheartened.
"We still had a good night," Conforti said.
On Saturday, there was a steady flow of patrons in- and outside the clubhouse, sampling pizza, Calzones, lasagna, Chicken Parmesan and so many more other such Italian dishes.
Patrons purchase tickets for a dollar a piece and apply those tickets to the meal.
Planning for the event begins in early January and volunteers get started with preparing and pre-cooking the food six days out.
Kitchen Leader Rocky Lewis rattled off a host of statistics – 700 pounds ground chuck, 650 pounds sausage, 550 stuffed peppers, 100 pounds lasagna, 75 pounds Manicotti, 100 pounds Chicken Parmesan, 200 pounds homemade cannoli cream, 400 gallons tomato sauce.
"We keep busy," Lewis said. His crew had made 140 gallons of tomato sauce just prior to the festival starting – they went through it and had to whip up another 250 gallons.
"We just keep making it all day long," he said.
Co-Chair George Dann said that all the proceeds from the festival remain in the community, through scholarships and support activities.
"We hope to have 10 nice scholarships," Dann said.
The Italian-American Food Festival wraps up today, with hours between 11 a.m. and 7 p.m., at the Italian-American Civic Club, 1600 25th Street. Nearby parking can be found at the Indian River County School District complex and on local streets.
Admission is free.