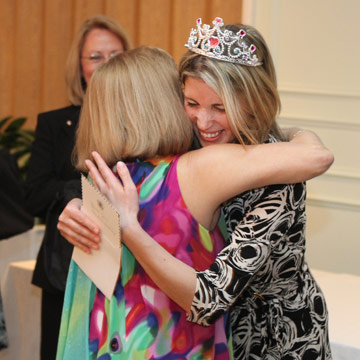 VERO BEACH – Fourth grade Vero Beach Elementary teacher Rachel Serra's face turned red as her name was called – 2012 Indian River County Teacher of the Year.
"I almost passed out," Serra said as she realized she had been named the Teacher of the Year and the crowd of fellow teachers and School District staff rose for a standing ovation.  
Serra said that winning the award was like all the teachers winning the award, sharing in their strengths and talents.
"Our job cannot be done individually," she said, only by learning from each other and working together can teachers succeed.
School Board member Claudia Jimenez introduced Serra before the announcement was made, telling the assembled audience that Serra strives to inspire students to believe in themselves.
"She looks at the whole child," Jimenez said – not just the grades and "doesn't get lost in the high-stakes" testing.
Serra beat out four other teachers for the county's top honor. Her fellow finalists include Rose Brickles, of Sebastian Elementary, Heather Holden, of Vero Beach High, Sandy McMahon, of Gifford Middle, and Sue DiDomizio, of Highlands Elementary.
The five finalists were selected from a pool of 22 candidates – one from each of the county's traditional schools.
McMahon teaches eighth grade math and is known to stay after school to further assist students who need additional help.
"She's serious about her craft," School Board member Karen Disney-Brombach said in her introduction of McMahon.
School Board Chair Matt McCain described DiDomizio as a teacher with a great amount of passion, noting that she came from the business world dealing with adults who behaved as children and who is now dealing with children who act appropriately.
IPod Touch grant recipient Brickles is said to be a teacher who inspires students to do creative and inventive things – to be discoverers, School Board member Carol Johnson said. Brickles is now working with the Mosquito Control District to study mosquitoes in Sebastian.
"She is eager," Johnson said.
Heather Holden, a teacher at the Freshman Learning Center, was selected to represent all of Vero Beach High School. School Board member Jeff Pegler said it was a testament to her passion and skill that her colleagues recognized her as a nominee.
"I couldn't be more impressed with you," Pegler said, adding that one student, in a recommendation for Holden, called her the "Queen of the FLC."
Teacher of the Year Rachel Serra will go on to compete for the Florida Teacher of the Year, which her predecessor Cheryl Conley won and is now vying for the National Teacher of the Year title.
Before the evening got underway, Conley said that this time last year, she sat as a finalist for the County Teacher of the Year.
"I was nervous," she said. "Excited nervous."
She said she's not overly nervous about the national title, but excited to go to Washington, D.C., in May to learn who the winner is.
Conley was among a team of committee members who made the selections for the finalists and the winner. Others on that committee included Katie Collier and Deborah Long, director of human resources and staff development.
"Every year, at this time, it gets a little bittersweet," Long said, leading into a tribute to the teachers.
Schools Superintendent Dr. Harry La Cava told the audience that the banquet is "always a wonderful time" to celebrate not just the good things these teachers have done over the course of the last year but also over the course of their entire careers.
"You all are winners," he said.