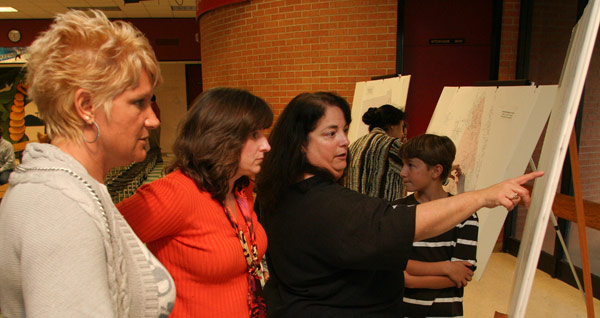 INDIAN RIVER COUNTY – Some 75 people attended the second of two community meetings to share both information and opinions concerning the proposed plan to populate the School District's newest, and most expensive, middle school.
Storm Grove Middle School, the $45 million state-of-the-art new school, is in dire need of students.  Operating at just 64 percent of capacity, the middle school would draw 172 students living in Vero Lake Estates and 200 students living in Vero Beach if the district redraws the school zones. "If we were to do nothing, Storm Grove would operate at just under 57 percent of capacity (next year)," said Deputy Superintendent Michael Degutis.  "One of the other things we had to consider is the federal desegregation order of 1969.  We have to have minority balance (in our schools).  The order says we have to have an African-American student population between nine and 27 percent."
Sebastian River Middle School is currently not in compliance with the order, with an African-American student population of around 7 percent.  The re-zoning plan would put them at just over 10 percent, and into compliance with the order.
Degutis said one of the complaints he'd heard from parents who didn't want their kids transferring to Storm Grove was that it wasn't a good school. 
"Storm Grove is an 'A' school.  Gifford Middle scored 552 points, Sebastian River scored 551 points, and Storm Grove scored 548.  Your child isn't getting a lesser education there," he said.
Parents were concerned with uprooting their kids from one junior high, where their children were already established socially and within their extra-curricular activities.
"I'm speaking on behalf of my son Courtland, who goes to Gifford Middle School," said Christal Hills.  "He wants (the School District staff) to know that, bottom line, we need to think about the kids and not about one school being better than the other.  One traumatic event can derail a kid completely.  He really feels like  being transferred to any other school would be a derailment for him."
This comment, and many more like it, was met with applause from the parents.  The parents were not satisfied with the re-zoning plan and asked School District staff to reconsider their plan
"There's no logical explanation, based on the numbers provided by your slide show, why you can't give 95 children the option of staying at Gifford Middle School," said Katherine LaLime.  "It would even your numbers out and it doesn't affect what (the children) have already built on at this time, but (the School District staff) is acting like this plan is a done deal.  Are we all wasting our time here?"
School Board Member Claudia Jimenez noted that there have been changes made to the re-zoning plan since the Feb. 4 meeting, and that no plans were set in stone.
"We are holding these meetings so we can hear your concerns," said Jimenez.  "I'm confident that our staff is going to look at these arguments.  You've been heard – changes have been made, and this is the second opportunity for us to get more input.  We want to hear your concerns.  It is lives of children and their families which will be affected."