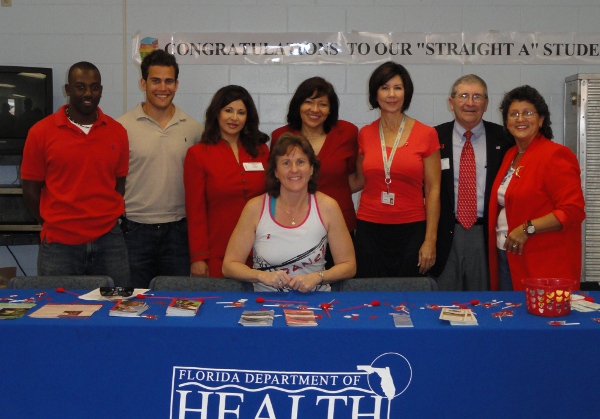 VERO BEACH — Friday, February 4 was National Wear Red Day, a special day to get the word out about heart disease in women and the fight against it. Students and staff at Oslo Middle School were encouraged to wear red in order to promote awareness about the dangers of heart disease and to perpetuate the education of prevention.  Heart disease is no longer a man's problem, but rather the no.1 killer of women in the United States. As the brain child of Marie Blanchard, program specialist at the Department of Health and with the help of Fatima Zayas, also from the Health Department, the Wear Red Day was a huge success.
Blood Pressure Readings were taken, customized BMI printouts and personalized consultations with an Internal Medicine and Bariatric Specialist, Dr. Deepti Sadhwani.  Jill Price, the Employee Wellness Consultant for the District was also present to answer questions about bringing wellness programs to the school including ZUMBA and Weight Mastery.  Over 40% of the Oslo staff indicated on a survey they would be interested in participating in such programs.  "That is a fantastic response," Price said.  "Now, the task is to get programs in place while the iron is hot and the excitement is high."
The entire staff participated in the event including the Food Service employees who went all out preparing foods using the "red" theme.  The day was flagged as an annual event that other schools and campuses can easily duplicate in the future.
Dr. Sadhwani has been working with patients in Indian River County for over 10 years and is known throughout the medical community as a doctor that promotes health rather than treats disease.  Patients who understand the value of that kind of medicine flock to her office in Sebastian.  Sadhwani has recently been asked to conduct a celebrity weight loss challenge for folks in our community.  Watch for more information or to apply to participate, please call the number below.
In 2003, the National Heart, Lung and Blood Institute (NHLBI), the American Heart Association and other women's health organizations joined together to raise awareness of women and heart disease. The NHLBI introduced the red dress as a national symbol for women and heart disease awareness and the American Heart Association adopted this symbol to create synergy among all organizations committed to fighting this cause.
For additional information, call Jill Price at (772) 713-7938 or email [email protected]