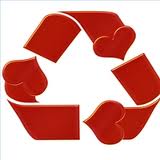 There were a few things I didn't consider when embarking upon a whole year without buying anything new.
One of those things was a Valentine's Day gift.
My sweetie knows the full extent of my little experiment, so a "used" gift shouldn't be a shocker.
Being a good red-meat-eating, gun-toting, card-carrying conservative (yes, opposites do attract) that he is, he humors me with all this liberal tree-hugger, save the world stuff. He thinks it's cute and can't wait for me to lose my resolve and re-join the consumer wasteland.All the more motivation for me to stick with it. Figuring out what would be acceptable to give used, though, for Valentine's Day, was a bit of a challenge.
It's a fairly new and relatively undefined relationship, so nothing that says too much. Absolutely nothing with the word "love" on it – yikes!
Hearts might be okay, but not the actual "L" word.
Needs to be something that looked like it took some thought.
He served in the Air Force and is a World War II nut, so that led me to looking at some books and miscellaneous military memorabilia, but I'm clueless in that area. I'd either choose something really stupid or I'd get ripped off.
After searching random 1940s vintage things on eBay, I found the perfect gift.
A Mizpah Coin, sterling silver with a nice patina. Well-used by two other people for many years.
The idea is that you each take one half of the coin.
That's about as romantic as I get (well, that's far from the truth, but that's as much detail as you're getting in this blog).
He's got a dangerous job and travels a lot, so it seemed like a good bet.
We're both on the religious side, so the scripture verse is appropriate.
When I received it in the mail, it was very cool. Both pieces had obviously been worn, there were small dents and discolorations, a mark from where the chain on one piece wore the silver down a little bit.
Makes me wonder about the history of the coin and the couple and how long they were together and wore the pieces.
So all around, I think a decent gift, under the circumstances.
And I didn't have to break The Compact.
I've even got the creative eco-gift wrapping under control. It only had steamed rice in it, broke down and had to have Chinese food last week. Felt badly about the packaging until I thought of a way to reuse it. The tissue paper is actually a napkin I had left over from Christmas. I figure he won't remember what napkins I used for Christmas. He wasn't at the formal dinner, it's way too early in the game to risk exposing him to my family on a holiday — and more specifically, to me with my family on a holiday.I'll bake some of his favorite chocolaty sweets today and there you have it, a low-impact Valentine's Day.
See, that wasn't so hard.My son also made his little girlfriend an eco-friendly Valentine, with a little help from Mom.We reused a doily from Thanksgiving, a seashell and some scraps of pink tissue paper that came from I'm not sure where but I found them in his room. She was thrilled and they had a cute Valentine play date.He painted the inside himself and plastered on some more construction paper hearts.All stuff we already had around the house.Hope you all have a very Happy Valentine's Day!
Tuesday will be one month on The Compact and other than the semi-questionable rabbit pen, I haven't broken it or even really bent the rules.I've gotten a couple of questions by email as to how the organic gardening is going. Things are coming along just fine and it's the easiest kind of gardening I've ever done before.
Next time (unless I get on a tangent about something else), an update on the greenhouse, with pictures, and preparing to transfer the plants into the ground, sort of.