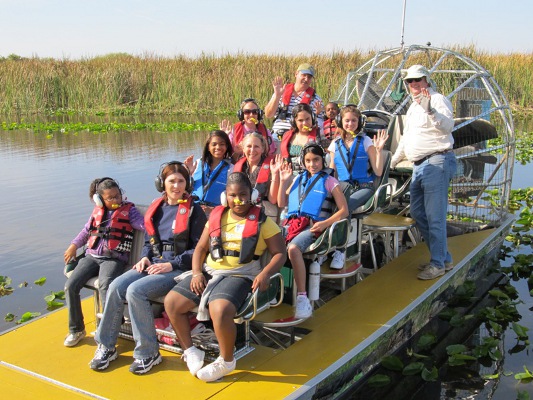 INDIAN RIVER COUNTY — The Youth Guidance children had an adventure -filled day during their guided airboat tour with Indian River County firefighters on January 30 in Fellsmere.  Stumpknocker Tours and Airboat Adventure Tours, Inc. provided the airboats allowing the kids to experience the scenery of the swampland and see the wildlife in its natural habitat. Thanks to our Gold Partners, the Youth Guidance children had a memorable time with many fantastic volunteers! Captains Steve Hayes and Bob Montuoro, Babette Flanagan, Toby Tuner and the IRC Firefighters partnered with Youth Guidance for this excursion in the marshland.  The kids encountered gators, birds, turtles and ducks, enjoyed a picnic and played sports with the firefighters.
The airboat ride was not only fun and exciting for the youngsters but it was very educational. They were able to learn firsthand about the wildlife and plant life native to Florida by navigating the waterways that ordinary boats simply cannot reach.  Traveling at speeds of up to 45 mph, Captains Steve and Bob shared information about the area using aviation talk-around headsets provided to all guests so everyone could interact with one another and ask questions.
The primary purpose of Youth Guidance is to match each of its nearly 700 at-risk K-12 grade children with a volunteer mentor 21 years or older.  Mentors spend just a few hours a week with their mentee doing friendship based activities that they both enjoy.
To volunteer, become a community partner or learn about the Guidance Gallery visit www.ircyouth.com or call 772-770-5040.