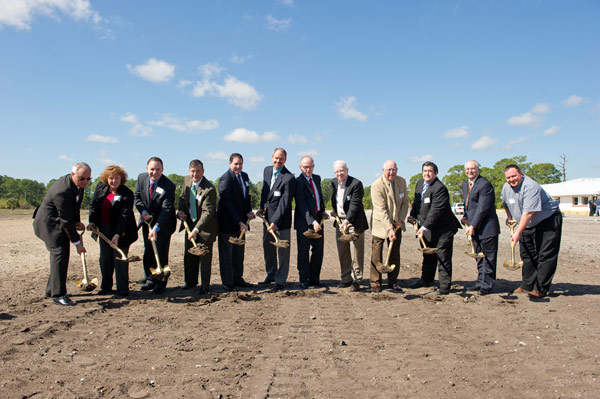 INDIAN RIVER COUNTY — Hundreds gathered Wednesday for the groundbreaking ceremony of the Indian River BioEnergy Center, where officials hope to generate 8 million gallons of ethanol a year for use in cars around the state.
Guests from Washington and Tallahassee along with local dignitaries were on hand for the ceremony at the old Ocean Spray plant on Oslo Road. "Today we are starting a major new thrust in turning material nobody wants into something everybody needs," said Tex Carter, CEO of NPE Florida, which is partnering with chemical giant INEOS to run the facility.
INEOS and NPE Florida, a subsidiary of New Planet Energy, have joined forces to develop the plant which will produce the fuel-grade ethanol and also have the capacity to generate 6 megawatts of electricity.
The process will take vegetative waste from the landfill next door and through a patented process turn that into ethanol. The Indian River plant will be the first of its kind in Florida and if the technology proves successful will be marketed around the world.
"This is going to be a template for facilities across the world," said Peter Williams, Chairman of INEOS New Planet Bioenergy. "From here in Vero Beach, Florida you are going to have a lot of visitors from around the world looking at this facility and hopefully ordering a new one from us."
Funding for the project came from a $50 million cost matching grant from the Department of Energy and a $75 million loan guarantee from the Department of Agriculture. INEOS Bio and New Planet Energy will provide the rest of the funding.
The BioEnergy Center, slated to begin production in 2012, is anticipated to provide 175 jobs during construction and 50 full-time jobs once the facility is completed.
Workers have already cleared the bulk of the old Ocean Spray plant and will begin construction on the new facility within the next couple of weeks.
Indian River County Commissioner Peter O'Bryan, who has been working on the project since it first came to his attention three years ago said the plant would not have been considered by past Indian River County Board of Commissioners.
"Maybe even 10 years ago the thought of the county supporting a biofuel or bioenergy plant would have been unheard of," he said. "I am very proud to be part of a County Commission that has consistently voted 5-0 whenever something has come up with INEOS and New Planet Energy. It has been strong supporter. I think it shows we are business friendly."
 O'Bryan pointed out the county has also contributed to the project by allowing the company to take part in the county's jobs grant program and tax abatement program.