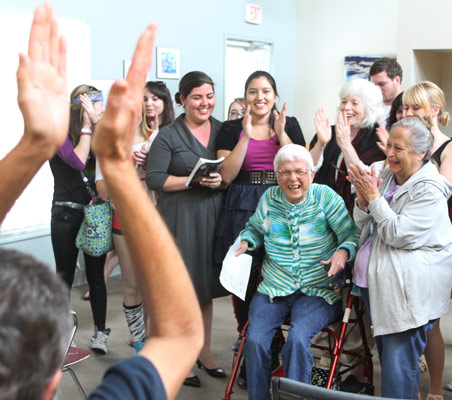 SEBASTIAN – Fame. They all want it. Some will get it. But for a little while it was shared amongst the residents and visitors of By the River, a senior community.
More than a dozen students from Indian River Charter High's performing arts school traveled to the community Sunday afternoon to perform scenes from their upcoming production of "Fame" – a Broadway musical set at a performing arts school. The performers have been working on the production since auditions in October. The curtain goes up at the Vero Beach Theatre Guild on Feb. 16.
"It's really great for the performers to get their feet wet," Theatre Director Michael Naffziger said prior to the By the River show.
By the River Volunteer Coordinator Judy Jayanti said this was the second time the school has rehearsed a show before the residents, though last year there was only about three in the audience.
"Everyone's excited today because it's so fun," Jayanti said.
The students modified a few of their scenes due to cast mates not being able to attend or lack of floor space in the living room.
"These kids are resilient," Naffziger told the audience. "Their ability to adapt is astounding."
For resident George Ealovega, getting a sneak peek of the musical will probably be the only way he'll get to see the students perform, he said, indicating that his physical condition and wheelchair make travel difficult.
"They are superb, they really are," Ealovega said of the Indian River Charter High performers. "I would recommend going" to the show. "They are professional class."
While residents certainly seemed to enjoy the show, punctuating the end of each scene with thunderous applause, the cast was equally thrilled with performing for the crowd.
"We finally got to have that mystical interaction with the audience," senior Nancy Carvajal said.
Carvajal plays the lead in Fame, Carmen Diaz.
She explained that up until the rehearsal at By the River, the actors have not performed in front of an audience.
Her sister, Kacy Carvajal, who plays Teacher Miss Sherman, said that the performance at By the River was a very good experience for the cast and a nice way to give back.
Fame will be performed at 7 p.m. Feb. 16 through 19 at the Vero Beach Theatre Guild and at 2 p.m. Feb. 20.
For tickets, call Indian River Charter High at (772) 567-6600.