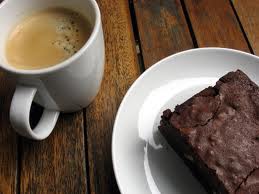 Just a short one this time about living The Compact to buy nothing new for a year.
Will discuss crunchy, green networking 'till next time.
I don't consider myself addicted to shopping, far from it. Most of the time, I'd rather do anything but.
But I did use shopping for therapy on occasion and I didn't even really know it.
As it's now Day 21 of this experiment and I had my first serious urge to shop on Tuesday night.
To say it had been the day from hell would be an understatement. The only thing that made the whole day palatable was meeting a friend for coffee and sharing a warm brownie that probably had 1,000 calories — it was so good.
I'd spent from about 9:30 a.m. to 5 p.m. in a contentious government meeting and written a story about it. Returned some phone calls and emails, worked on another story and it was 7:15 p.m. My son was with Grandma for the night being completely spoiled and doted upon, so there was no need to rush home.
Prior to The Compact, faced with an hour or so in the evening and my brain riddled with the day's events, I would stroll around someplace like TJMaxx to hit the "reset" button. I'd look at pretty things, smell some perfume, check out the shoes to see how awful they were and wonder when decent shoes for sensible people will actually come back into style.
I might pick up some new lavender or rose-scented soap, a blouse or sweater, maybe a book on sale. If I found something irresistible on clearance that I might just someday have an occasion to wear, I'd buy it. I have four or five of these "treasures" in my closet now with the tags still on them. Still waiting for that semi-formal event or that night out dancing in South Beach (Miami, not Vero).
Or I'd stumble through the Dollar Tree store and see what kind of junk I might need there, pick up a toy for my son, some new crayons because he eats them, or a fresh batch of generic Play Dough. I used to buy it on a regular basis because he mixes all the colors together and I find a lump of crusty brown dough on the floor and think for a moment that we still have a dog.The purpose of the Play Dough was to teach my boy his colors, so I used to get new packages all the time — eight for $1, can't beat that.
My minivan actually turned into the parking lot. I was very tired, so maybe I was on autopilot. I'm thinking that's the same kind of autopilot that makes you grab a tub of ice cream from the freezer when you're too tired to think about what you want to eat.
I sat there for a moment and laughed, turned around and headed home.Didn't even need the painful pumps.
My Compact is intact for another day.
I'm thinking this has to get tougher somewhere along the way. We'll see.
Yes, and I just realized in re-reading this post that this wasn't a short one . . .
Do you think you could take and keep The Compact?