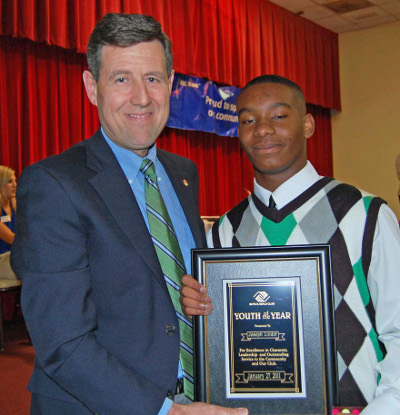 INDIAN RIVER COUNTY — Joseph Lindor was named Youth of the Year during the seventh annual Boys & Girls Club Youth of the Year celebration at the Polish American Club on Thursday, January 27.  Lindor is president of the community service-focused Keystone Club, a junior at Vero Beach High School, and a member of ROTC. He was one of two nominees for the award, the second being Jacob Walton of the Sebastian Club and a freshman at Sebastian River High School. Walton plays JV baseball and participates in the ROTC program. He recently won first place for his age group in the Boys and Girls Clubs of Indian River County Fine Arts Exhibit in the oil/acrylic category.
Youth of the Year is BGC of Indian River County's premier youth recognition program for Club members and is designed to recognize our most outstanding young people. Being named a Boys & Girls Club Youth of the Year is the highest honor a Club member can receive.
Club members are judged on the following criteria: service to home and family; moral character; community service; school leadership and service; academic performance; service to the Boys & Girls Club; life goals; two written essays; and public speaking ability.
Before Lindor accepted the award, he addressed the crowd of 145 people, stating, "I've experienced a lot of hard times these past few years. I lost focus of my priorities in life but the Boys & Girls Club has helped me to stay focused and is leading me to a path of excellence. I thank the staff for guiding me in the right direction when I didn't know what to do or where to go."
Daniel Fourmont of RBC Bank, the event's sponsor, Michael Kint of the United Way, and Carol Johnson of the Character Counts Coalition of IRC and the IRC School Board were judges for this year's competition. Local Clubs recognize members ages 14-to-18 who were Youths of the Month and select a Youth of the Year, who then participates in the state competition.
Lindor will now participate in a statewide competition, in which winners receive a $1,000 scholarship and participate in a regional competition. The statewide competition will be hosted by BGC of the Emerald Coast in Ft. Walton Beach, FL.
Five regional winners will each receive a $10,000 scholarship and compete at the national level. The National Youth of the Year receives up to an additional $50,000 scholarship and is installed by the President of the United States. BGCA is proud to announce a new partnership with Marquette University. Youth of the Year winners on the organizational, state, regional and national level are now eligible to apply for a full-tuition scholarship to Marquette University.