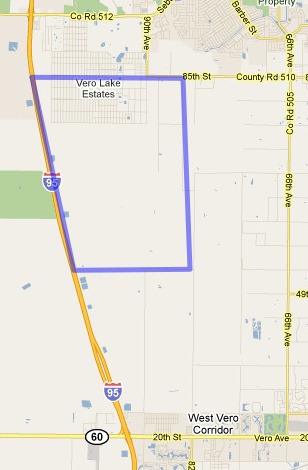 INDIAN RIVER COUNTY – More than 370 students currently enrolled at Sebastian River Middle School and Gifford Middle School could be shifted to Storm Grove next school year, the Indian River County School Board learned today.
School District staff presented a proposed plan to move students around to add some capacity to those schools and better utilize Storm Grove by taking students from Vero Lake Estates and other communities. Storm Grove, which has current student capacity of 64 percent, is expected to drop to 57 percent next school year if nothing changes. It was built two years ago for more than $40 million.
"It's not good public policy," Deputy Schools Superintendent Michael Degutis said of having one school so under used and others close to their maximum capacity.
Both Gifford and Sebastian River middle schools would be around 95 percent full next year if no changes are made to the schools' zones.
The school district tries to keep schools' capacities between 85 and 90 percent to allow for future growth and adhering to the Class Size Amendment, Degutis explained to the School Board, which met in a workshop this morning.
Degutis and his team are proposing the following areas be rezoned for Storm Grove Middle:
Vero Lake Estates – South
No. Students: 172
North Boundary: 85th Street
South Boundary: 53rd Street
East Boundary: 82nd Avenue
West Boundary: Interstate 95
Portion City of Vero, South County
North Boundary: Atlantic Blvd. (Canal) to SR 60
South Boundary: 8th Street
East Boundary: 27th Avenue
West Boundary: 58th Avenue
If the School Board were to approve the plan as it was presented, current seventh graders at Sebastian River and Gifford middle schools could opt to stay at their school for eighth grade. Siblings in lower grades, however, would not be given that option.
Transportation would be provided to those students who choose to remain at their current school, school district officials said.
Officials stand behind the district's decision to build Storm Grove, pointing to the over population at the Sebastian River, Gifford and Oslo middle schools in 2006, which the new school alleviated.
Oslo was at 100 percent capacity while the other two were at 120 percent.
"Building a new middle school was the right thing to do at that time," Degutis told the School Board.
Aside from relieving pressure at the existing schools, Storm Grove was meant to be filled with newcomers moving into communities such as Vero Lago, Waterway Village and Pointe West.
"It did not come to fruition as we thought it would," Degutis said.
While School Board members applauded district staff for coming up with a plan to better address school usage, member Karen Disney-Brombach questioned splitting communities in half, as would be the case for Vero Lake Estates.
"I keep thinking about the kids," she said, explaining that they grow up together, play together.
Disney-Brombach asked if the staff had considered, instead, rezoning the northern part of Sebastian and Roseland for Storm Grove – keeping one community at one school and the other community at another school.
Transportation Director George Millar explained that the numbers did not work for reassigning northern Sebastian and Roseland to Storm Grove, that the areas do not have as dense a student population as Vero Lake Estates.
New School Board member Jeff Pegler said he understood the theory behind shifting students to bring the schools into balance, but questioned what advantage there would be to doing so.
"Everyone's set now," he said of the students after the initial rezoning when Storm Grove opened.
Schools Superintendent Dr. Harry La Cava explained that if Storm Grove were to not have enough students enrolled, the school would not be able to support the programming it needs.
Middle schools are now designed to have approximately 1,250 students – a number that the district determined is the most cost effective and efficient.
"You're stretching pretty thin," said Board Chairman Matt McCain, using Gifford's current 97 percent capacity as an example. By reducing the student load there, staffing could be more flexible and there would be less demands on the facility itself.
Board member Claudia Jimenez agreed, adding that the reduced noise level alone in the cafeteria would be a benefit to the remaining students.
With an apparent consensus from the School Board on the proposal, district staff plans to begin meeting with representatives from the various unions, the NAACP, and hold town hall meetings for parents in February.
Degutis said that he would like to bring the final plan to the School Board for a vote in late March or early April.
 ***
Who to Contact:
Deputy Superintendent Michael Degutis: 772-564-3176 michael.degutis@indianrivershools.org
Director of Transportation George Millar: 772-978-8816 george.millar@indianriverschools.org
Assistant Superintendent Dr. Fran Adams: 772-564-3014 fran.adams@indianriverschools.org