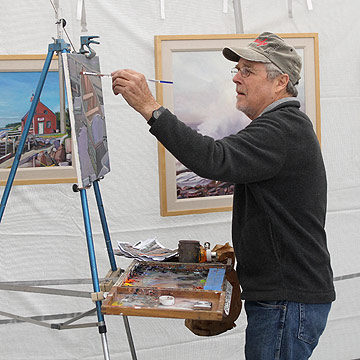 SEBASTIAN – An estimated 15,000 people visited the Sebastian Riverfront Fine Art and Music Festival Saturday, despite overcast skies and cutting winds.
The same number is anticipated again today as the festival wraps up. "Just dress warm," organizer and festival founder Lisanne Robinson said, while rubbing her hands on her pants to generate friction-warmth. "The weather, I just can't do anything about. I try."
For the tenth year, the festival has invaded Indian River Drive and the easternmost part of County Road 512/Sebastian Boulevard, drawing more than 100 artisans and fine crafters and thousands more art enthusiasts looking to take some art home with them.
Sandy Brown, a seasonal resident from Barefoot Bay, was undeterred by the less than favorable weather.
"We're braving the cold because this is the good life," she said, toting a shopping bag. Her treasure? A concrete and sea glass mermaid.
"She's very unique and life like," Brown said.
This is the second year Brown has attended the festival – and she has yet to be disappointed.
"It's unique and marvelous," she said.
Robinson said the feedback she's been getting has all been positive.
"They love the diversity," she said of the visitors. "And the price points are good."
This year, the festival ran out of space due to the demand from artists to participate.
"We're gaining a reputation," Robinson said.
North Carolina artist Barbara Downey agreed, noting that it was because of the festival's reputation that she was participating this year.
Downey explained that she's heard good things about the Sebastian Riverfront Fine Art and Music Festival and was on her way to the Florida Keys for another festival when she decided to join the Sebastian show.
"It's been a decent crowd," Downey said, "a good response."
She said her sales seem to be down slightly from what she had anticipated but blamed that on the chilly weather.
Downey paints on fiberglass screens, creating functional pieces of art that can be used as earring holders. Her motto – "If you see them…You will wear them."
Today is the final day for the festival, which gets going at 10 a.m. with musical entertainment from Hairpeace. They perform from 10 a.m. to Noon, when VilliFi takes over until 2 p.m.
Headliner Nico Wayne Toussaint will round out the live entertainment from 2 to 5 p.m.
The festival, which has free parking and admission, wraps up at 5 p.m.