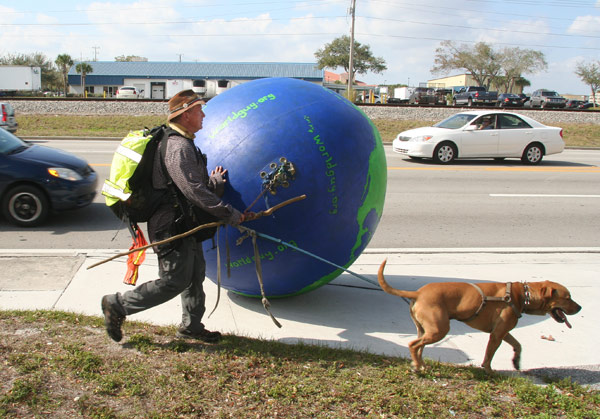 INDIAN RIVER COUNTY – The sounds of honking horns along US 1 served as a soundtrack for Erik "World Guy" Bendl's journey north to Georgia with Nice, his dog.
If you saw a man pushing a large globe with dog in tow, that was Bendl. Bendl decided for this year's trip to walk from Fort Lauderdale north to Georgia spreading awareness of diabetes.
"I save my money for a while, then I go on a trip," said Bendle.
One of his trips was from Washington D.C. into Maine.
He walks about 10 miles a day stopping at municipal buildings, fire stations, and parking lots talking about diabetes.
Bendl took a break at High Tide Autos of Vero Beach where he talked to the employees and shared his story.
They helped him out with a donation and a drink for Nice.
Bendl, who lost his mother to diabetes, found another person touched by the disease at High Tide Autos.
Trent O'Neal's girlfriend's brother went into diabetic coma but is doing fine now.
"You don't find too many people like that," said O'Neal of Bendle.
Bendl, on his route, relies on donations from his website/blog http://www.worldguy.org/ and the kindness of strangers he talks to.
"I don't use the GPS on my chest top, I use the GPS of good people along the way," said Bendl, referring to an electronic device he keeps around his neck. "Sometimes people take me in for a little shower or food and so I do get help along the way."
Along his journey he is met with photos and video everywhere he goes.
One young man, Bendl wrote in his blog, tried to get a photo of him with his phone but because the young man was wearing his pants too low, he couldn't move fast enough to get ahead of the traveler with the globe, missing the photo opportunity.
Social media has also played a role in his coverage. Two local Tweeters either helped or sent out a Twitpic of him.
On Bendl's journey, one of his tasks is to keep the "world" looking nice. He wrote in his blog for Friday that he touched up the globe and had to wait for the paint to dry.
At one point an ambulance driver revived the globe with a shot of air into the "world," he wrote. Bendl also received a flag from a traffic crew to help wave cars over when he has to venture out into the road.
"The day ended as it began, filled with happy conversation and interesting people. What will today bring as I wander, I wonder? I see lightning! Maybe a day for rest," Bendl wrote.