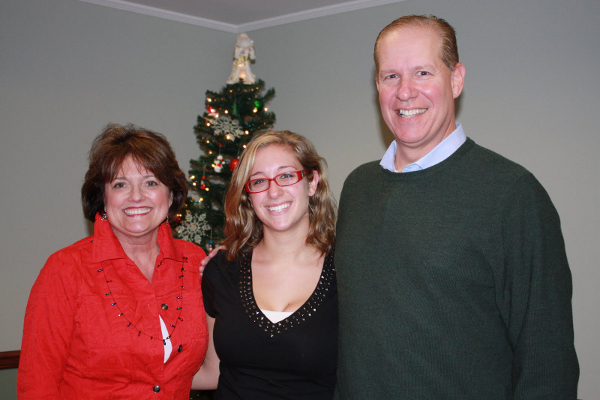 VERO BEACH — Children's Home Society recently announced that Becker Trading Company was continuing to support the organization as an event sponsor of its annual gala, Tumba La Casa, which is slated for Saturday, April 16 at Rock City Garden.  However, their support doesn't stop with this sponsorship.  Becker Trading Company owners and staff have been long-term supporters of Children's Home Society. "We will continue to support CHS and help in any way that we can," explained Andy Taylor, Vice President of Finance, Becker Trading Company and Peace River Citrus.
"We are especially grateful for the services that CHS provides for our community's most vulnerable youth through its Transitional Living Program, which provides services and programs for youth who are transitioning out of foster care into independent, productive adult citizens."
Becker Trading Company owners, Bill and Mary Ann Becker, also donated personal funds for a capital campaign to build the Youth Transition Center, located on the Vero Beach Campus. The center opened in January 2010 to provide independent living apartments and outreach services for young adults, ages 18-23, who are enrolled in the Treasure Coast Division's Transitional Living Program.
Philanthropy is a tradition of Becker Trading Company among employees and their families. Taylor's 18 year old daughter, Alex, was so touched when she learned about the Becker's donation that she was moved to make a pledge toward the capital campaign to build the Youth Transition Center.
She was a contestant in the 2010 Miss Hibiscus Pageant and in her oral presentation spoke about her passion for youth, who at her age would be turned out of the foster care system. She went on to become a pageant runner-up and named "Miss Congeniality" and donated 50-percent of her winnings to the center's capital campaign, which were matched by her parents.
Alex Taylor is interested in criminology and working with youth that are part of the juvenile justice system.
Now a freshman at University of South Florida, she commented on her experience, "I was inspired by the book 'Three Little Words' that was written by a young woman who endured abuse by her mother and lived in multiple foster care homes until she was adopted at age 12. This is an example of how a foster child's life can be turned around. I was moved when I thought about foster children who were never adopted and wanted to make a commitment to help turn their lives around."
The Children's Home Society of Florida Treasure Coast Division, which is one of 14 divisions in Florida, serves more than 9,000 children and their families each year in Indian River, Martin, Okeechobee and St. Lucie counties.  Children's Home Society is not a government agency and must rely on the support of individuals, civic groups, foundations and businesses for the funds to give children and young adults the opportunity to be safe, healthy and prepared for life.
For more information, visit www.chsfl.org or call 772-344-4020