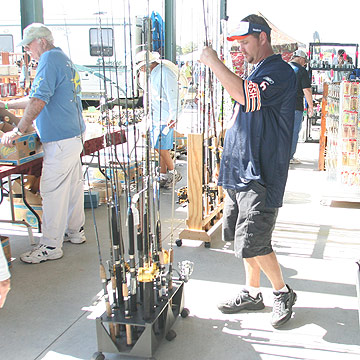 INDIAN RIVER COUNTY – Today wraps up the second annual Nautical Flea Market and Seafood Festival at the Indian River County Fairgrounds.
Shoppers who turned out Saturday said they would be back again on Sunday to finish where they had left off and vendors said they were having a great time. Shalayn Gregory, of Vero Beach, loaded her son, his friend and several fishing poles in to the vehicle before saying she would be coming back.
They had been one of the first to enter the flea market at 9 a.m. – three hours later, it was time for a short break.
"The kids enjoy it," Gregory said of fishing, explaining that every chance the family gets – they're out on the water fishing.
They would be back again Sunday for the boat auction – the first of its kind at the event in Vero Beach.
Organizer Larry Burdgick said he couldn't be happier for the weekend's weather or the crowds. He anticipates more than 10,000 people to walk through the fairgrounds, checking out boat equipment, fishing gear and decor.
"This is fantastic," Burdgick said, noting last year's event was held in July – the temperature was 95 degrees and Tropical Storm Bonnie was bearing down on the area.
The Vero Beach show is the youngest of Burdgick's four he puts on in the area. The others are held in Stuart, West Palm, and Port Charlotte.
"It's larger this year," he said of the Vero Beach flea market and festival.
With about 300 flea market vendors and 50 food vendors, shoppers did not leave empty-handed nor hungry.
John and Iris Stobierski, of Vero Beach, decided to check out the flea market and discover what deals they could score.
Loaded in their shopping bags was a vintage tin sign of a garage girl, a T-shirt, fishing lures and a fishing rod carrier.
"I wish I had thought of this," John Stobierski said of the four-rod carrier.
If not for the festival this weekend, he said he would have been out on one of his two boats – fishing. He has a 21-foot Boston Whaler and a SeaMaster.
Along with filling their bags with loot, they filled their stomachs with food.
John Stobierski had a sub, while Iris tried the fried Mahi Mahi with French fries.
"It was very good," she said, "fresh."
Vendors, too, seemed equally pleased with the event – noting that they had made numerous sales just in the first few hours of the two-day festival.
"The show's going really good," said Mike Beck, of Sebastian's Kayaks Etc.
Along with selling kayaks and other, smaller, nautical gear, Beck was selling artwork created by his wife, Kristen, who also runs Kayaks Etc.
"I had to pry it out of her fingers," he joked.
The Indian River County Sheriff's Office Community Service Unit was also at the festival, handing out fliers on boating safety and talking up the volunteer group.
"I think it's great," volunteer John said of having a booth set up at the event.
He said he expects to reach more people in these two days than he would have otherwise.
"If the community supports (the event) and the vendors do well, it's easy to make this an annual event," Burdgick said.
He added that he plans to bring the event back again next year to the fairgrounds, noting that the county's staff has been very helpful.
"This is perfect," he said of the fairgrounds facilities, adding that it's like "night and day" from other venues. "The county goes out of its way."
 ***
Nautical Flea Market and Seafood Festival at a glance
Date: Sunday (last day), Jan. 16
Time: 9 a.m. to 6 p.m.
Location: Indian River County Fairgrounds, 7955 58th Ave., Vero Beach
Cost: $7 entrance, free parking