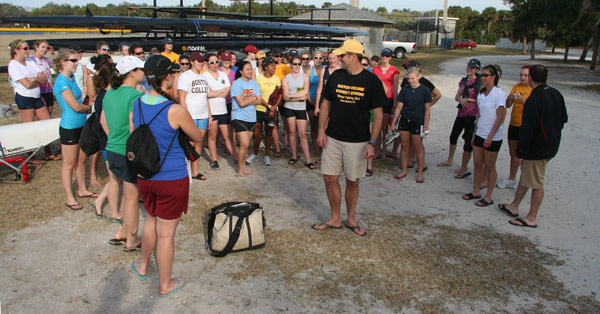 VERO BEACH – Resident boaters might find a bit more marine traffic over the course of the next few days as 50 rowers from Boston College's Women's Rowing Team take to the lagoon for winter training.
"We kind of fell into it a little bit," Coach Steve Fiske said of training in Vero Beach rather than elsewhere. The team has traveled to Florida 10 out of 12 years for training during the school's Winter Break, but this is the first time they've come to Vero Beach.
Fiske explained that they had gone to Miami Beach and Orlando – both had their positives and negatives – but he was ready to try something new.
After asking around, he found out about the C-54 canal north of Fellsmere, but was disappointed by the lack of nearby accommodations.
"Vero jumped out at me," the coach said, noting that he did more digging and found Vero Beach – the marina, the lagoon, and plenty of nearby lodging.
He called the Vero Beach Hotel and Spa for accommodations and discovered that one of the sales associates is a former rower who once rowed with his assistant coach, Anthony Brock, in college.
Johanna Bayley, the sales associate, told Fiske that the lagoon would make for a great place for training.
"She was really gung-ho" about us coming to Vero Beach, Fiske said.
The hotel set them up with a couple suites with kitchens so the team could cook some of their own meals – a way for them to keep costs under control.
"The people are super nice to us," the coach said.
The Boston College Women's Rowing Team arrived on Jan. 8 and will be departing for the north on Jan. 17 – that is, if they can tear themselves from the sun – and what had been the warmth.
"Why hurry back?" Fiske asked rhetorically, explaining that the north continues to get socked with snow.
"We're really enjoying the trip so far," the coach said – adding that they would consider returning to Vero Beach next year.
What would help seal the deal, he said, would be for the city to have a boathouse for storing their boats and a launch dock.
"We kind of rolled the dice" on Vero Beach, Coach Fiske said. "But we're happy about it."