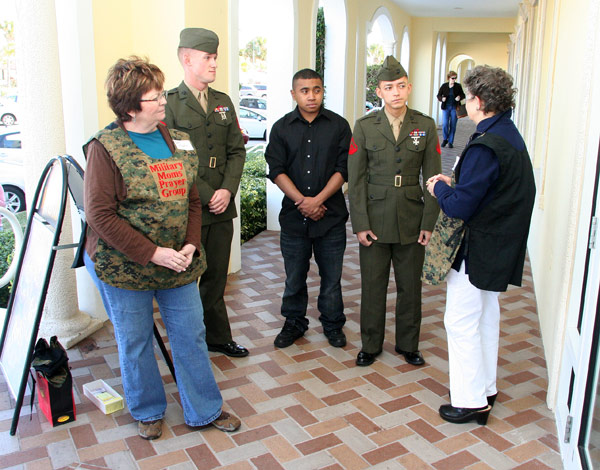 VERO BEACH – A steady line of customers poured through the doors of Kilwin's Sunday afternoon, drawn by the red, white and blue balloons and members of the Vero Beach Military Moms Prayer Group.
"It doesn't get better than this," customer Matt Wind said while enjoying a chocolate ice cream cone. He and his daughter had been on the beach when a Sweet Tooth struck – they had to have ice cream.
While walking down Ocean Drive, they had thought to head to one store – but then saw the balloons. They had to check it out.
When they found out that a portion of the proceeds from their purchase would go to Military Moms, they decided to get ice cream at Kilwin's, Wind said.
"We're having an awesome day," said Beth Hutchinson, of Wemmer Family Orthodontics, which organized the fund-raiser for military group.
Pam Proctor, of Military Moms Prayer Group, said the funds would help offset the cost of their Valentine's shipment – one of two the group makes each year.
"This is a vote of confidence" from the community, Proctor said of the turnout Sunday.
About half-way through the two-hour fundraiser, three US servicemen appeared, just stopping by to say thank you to the Military Moms and to Kilwin's for their support.
"They help out a lot," said Cpl. Valentine Tobolskiy of the military group.
Being stationed in Afghanistan, he said they don't receive many care packages. The ones they do receive, they greatly appreciate.
Cpl. Tobolskiy has just six months left in his 4-year service with the Marines. After that, he plans to enroll in a flight school in Fort Pierce, he said.
"I believe this cause is a great cause," Wemmer Family Orthodontics employee Courtenay Smith said – so much so that she gave up a day off to come out to Kilwin's.
Her brother, 24-year-old Jason Harvey, is a US Military serviceman – having served two tours in Iraq for a total of five years.
For Smith, supporting the Military Moms Prayer Group with the Kilwin's fundraiser is a way to say thank you to US troops.
Proctor, of Military Moms, said that the group is currently taking donations of chocolates and handmade Valentines they will then send to troops stationed overseas. Donations, she said, can be dropped off at Eye Clinic of Vero, located at 632 21st St.
For more information about Military Moms Prayer Group, visit www.militarymomsprayergroup.com.