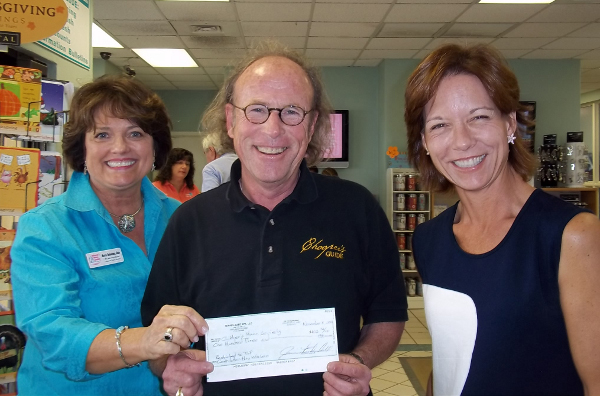 VERO BEACH – Waves Auto Spa, located in Vero Beach, recently presented Children's Home Society, Treasure Coast Division, with its first monetary donation from a program that was implemented at Transitions, a consignment and thrift gallery located within their lobby. Transitions accepts consigned and donated items that are then resold, with a portion of the profits supporting the nonprofit organization's Transitional Living Program. In addition, Waves Auto Spa provides ongoing employment opportunities for young adults transitioning out of the foster care system. While customers wait for their car to be washed and detailed, they can opt to either sit in the waiting room or shop at Transitions for items that are not usually found at a typical auto spa.
"It is truly amazing how local businesses come up with innovative ideas to support our organization," explained Jan Swink-Huffert, Executive Director, Children's Home Society, Treasure Coast Division. "The Waves customers can find great deals amongst the array of merchandise offered at Transitions with the knowledge that they are helping out one of our community's most vulnerable populations."
Waves Auto Spa, located at 1588 US Highway 1 in Vero Beach, attends to detailing all areas of a vehicle – inside and outside. In addition to Transitions, the reception area features televisions and WiFi access for customers while they wait for their revitalized automobile. Hours are Monday through Saturday, 8:30 a.m. to 5 p.m. and from 9 a.m. to 3 p.m. on Sunday.
The Children's Home Society Transitional Living Program provides young adults, ages 18-23, with a continuum of care after they age out of the foster care system with financial assistance, job training and mentoring to prevent homelessness and break the cycle of abuse and neglect that have been part of their lives. The Youth Transition Center, located on the Vero Beach Campus is a residential component of this program.