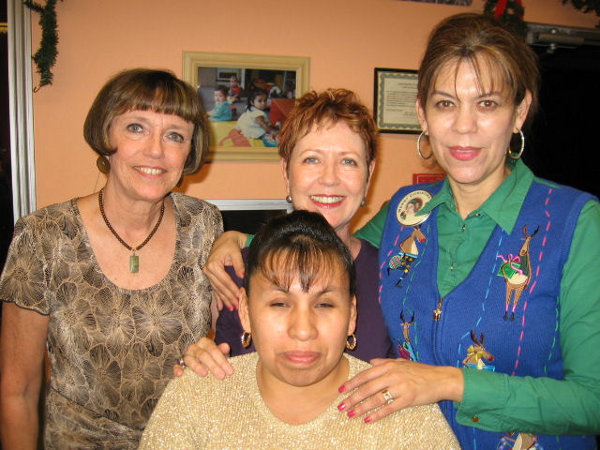 VERO BEACH — A 15-year holiday tradition for the Unitarian Universalist Fellowship of Vero Beach is Project Niños, adopting a group of migrant farmworker families in three Redlands Christian Migrant Association daycare homes in Fellsmere.  A Christmas party is held, with Santa making his appearance bearing gifts for each child.  This year, the December 20 event at the RCMA Center was attended by 14 families and 24 "adopted" children, along with 34 UUFVB members and friends. Maria Sobkowiak and Denise Haight were co-chairs of the event.  Helping with the planning in Fellsmere were Maria Pantoja, one of the mothers, and Lucy Pablano, director of the daycare program.  As always, the Fellsmere families provided the potluck meal, with church members bringing the dessert. The food was delicious and Santa (aka Roger Sobkowiak) was a hit!
Over 84 UUFVB members contributed in some way to Project Niños, some buying gifts, others donating money.  Each child received clothing, toys, and a book.  In addition to the gifts for the children, every family received a Publix gift card of $115.
UUFVB and RCMA have a long history together.  Approximately 20 years ago, Fellowship members Carlos and Norma Mooney became involved in helping the migrant farmworker families in Fellsmere.  Every month at the church´s former 43rd Avenue location, the Mooneys would park their large van on a Sunday and accept donations of clothing and food, then take the donations to the RCMA.
During the Christmas holidays, the Mooneys would collect toys and deliver them just in time for Christmas Eve.  In those early days, specific children were not adopted.  The Mooneys along with Dick and Denise Haight would make the rounds, stopping at each home with a sack full of wrapped gifts for the little ones.  Ten years ago, the Fellowship began sponsoring a more structured holiday event and, somewhere along the way, the name Project Niños took hold.
Eight years ago, the group began hosting an annual party at the RCMA Center in Fellsmere.  Santa Claus is always there, and the families of the children are invited to the celebrations.
UUFVB´s Social Justice Committee became interested in this Fellsmere outreach project and has now 'adopted' the RCMA as one of its ongoing projects.  Each year Project Niños collects new toys, clothing, and books for the children, who ranged in age this holiday season from one through five.  Gifts are given not only to the children in the daycare centers, but also to their siblings.  The Fellowship also collects and delivers clothing year-round to Fellsmere.
For further information, call 772-778-5880.