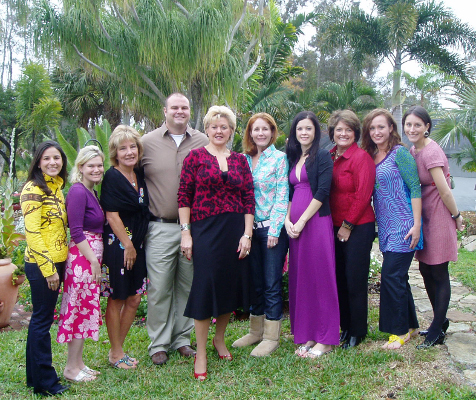 VERO BEACH – Rock City Gardens will once again host Children's Home Society of Florida, Treasure Coast Division's signature event Tumba La Casa, slated for Saturday, April 16. Located at 9080 US Highway 1 in Wabasso, the garden scene will provide an ideal backdrop to one of the season's most sizzling soirees. "We had such a great turnout and response from last year's event that we began planning this year's event immediately afterwards." explained event co-chairs Abby D'Haessler and Melissa Shine.  "We are maintaining the Latin theme with some special surprises that will close out the social season with a big bang. This year guests can opt for a VIP perks package that will include reserved seating, a gourmet dinner and drinks served tableside."
CHS recently announced that it combined its two signature events into one end-of-season extravaganza. Moving forward, the best of "Rockin' Vero Beach" will be combined for a single celebration under the Tumba La Casa brand.
Co-chairing the 2011 event are Abby D'Haessler and Melissa Shine, board member and co-chair of the CHS Indian River County Fund Development Committee. Other committee members include: Marta Schneider, Dr. Susan Fries, Wendy Shafranski, Georgia Irish, Tiffany Starr, Amanda Pfennig, Ashley Bona, Angela Waldrop, Bekah Conti, Elizabeth Sorensen, Amanda Robinson, Sara Beth Turkaj, Navini Coakley, Kate Pokorny, Tara Trennepohl and Dee Benjamin.
Sponsorships for the event are still available at multiple levels. For information about sponsorships or to receive an invitation, contact Dee Benjamin at 772-778-6340, ext. 225 or dee.Benjamin@chsfl.org.
The Children's Home Society of Florida, Treasure Coast Division, which is one of 14 divisions in Florida, serves more than 9,000 children and their families each year in Indian River, Martin, Okeechobee and St. Lucie counties.  Children's Home Society is not a government agency and must rely on the support of individuals, civic groups, foundations and businesses for the funds to give children and young adults the opportunity to be safe, healthy and prepared for life.
For more information, visit www.chsfl.org or call 772-344-4020.