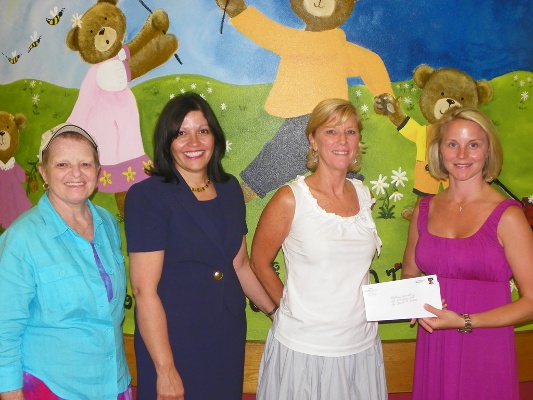 VERO BEACH — The Education Foundation of Indian River County is pleased to announce that five grants totaling more than $8,300 were selected to honor the legacy of the late Clint S. Malone.  The grants will be funded by the Clint S. Malone Memorial Fund of the Indian River Community Foundation. Mr. Malone was tragically killed by a drunk driver on October 13, 2007 while riding his bike next to his wife Jennifer in Panama City Beach, Florida.
Mr. Malone had a great passion for education.  He loved to read, to write and excelled in mathematics.  He also enjoyed being physically active.  Golf and swimming were a few of his favorites.  Mr. Malone also believed that the key to success was to have confidence in one's self and to develop strong social skills.
The following five grants totaling $8,300 were selected by the Malone family for funding:
"Swimming to Success" by Arleen Alter of Dodgertown and Highlands Elementary Schools, was granted $2,800.  This program will provide second graders at both schools with swim lessons.  In addition, students will learn about water safety and science.  The curriculum will also incorporate art, writing and math. This grant will benefit 160 students in the second grade.
"Education City" by Mrs. Bonnie Swanson & Team of Vero Beach Elementary School, was granted $2,625.  This grant will fund the subscription of Education City to provide Language Arts, Math, English Language Learners and Science supports to benefit the entire school population of 600 students.
"Biolabs", by Sandi Linatsas of Vero Beach High School, received $2,009.  This grant will benefit 25 at-risk students who show a sincere interest and aptitude in the field of Science.  Students will learn the relevance of science, technology, engineering and math through four projects: Sea Life, Sea Turtles, Treasure Salvage Diving, and Bio-Fuels.
"Students Will 'Flip' Over Technology Driven Project Based Learning While Improving Reading Skills" by Gary Curry, Vero Beach High School, received $500.  This project based learning program will use Flip video cameras to teach students how to integrate technology into their studies.  Students will create projects using computers, the Internet, interactive whiteboards, global positioning, digital stills, video, and associated editing equipment.  Ninth grade intensive reading students will connect what they are learning to real world experiences.
"The Wireless Eggspert" by Sara Caraboll, Vero Beach High School, was granted $210.   This grant will provide a wireless system that will enable students to practice their skills in Spanish 1 and Spanish 2 classes at the Freshman Learning Center.
"Clint Malone would be happy to know that his name was attached to such innovative and motivational programs," commented Clint's mother, Judy Malone.  She added, "Clint lives on through the lives of others.  What a wonderful opportunity this has been."
For information about the Education Foundation of Indian River County, visit www.edfoundationirc.org or call: (772) 564-0034.