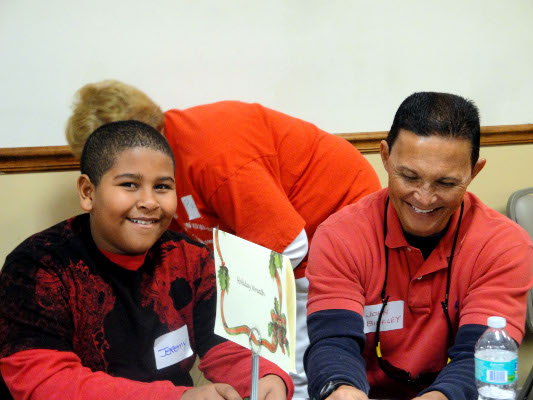 VERO BEACH — A dozen members and guests of Exchange Club of Indian River had the privilege of celebrating the holidays with the children of Youth Guidance at its annual Christmas party December 5 at Elks Lodge, Vero Beach. The children and their volunteers worked together to make holiday-themed arts and crafts projects, play games, and enjoy delicious pizza and chocolate chip cookies. Santa and Mrs. Claus were there to make the party especially memorable for all 340 children and volunteers attending.
Exchange Club of Indian River meets for lunch at Culinary Capers each Wednesday at noon. Meetings feature programs on a wide range of business, government and civic, charity, personal, and professional topics. In months with five Wednesdays, the Club substitutes a just-for-fun evening social event for the lunch meeting.
The Club provides the community with programs in youth activities, service, and Americanism. Through participation in its national project, the Prevention of Child Abuse, it supports a number of local youth-related charities. Members of the club, a Youth Guidance Gold Sponsor, are frequent volunteers at Youth Guidance activities and events.
Club projects are supported by Exchange Club of Indian River Foundation's fundraisers, including upcoming WinnerFest Merry Christmas Raffle December 18 at Pointe West's Winter Fest.
Information:  Call current Club President Andrew Molloy at 772-473-4416 or visit www.exchangeclubofindianriver.org.