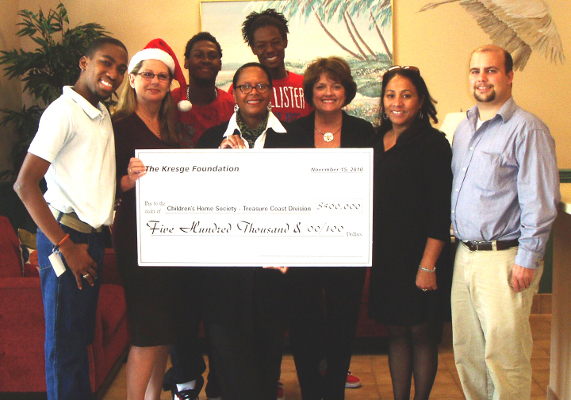 VERO BEACH – Children's Home Society of Florida, Treasure Coast Division (CHS) recently announced the receipt of $500,000 from the prestigious Kresge Foundation for the Youth Transition Center Capital Campaign.  The grant was given as a result of CHS meeting the terms of a challenge grant set forth by the foundation. CHS launched its $5 million capital campaign nearly three years ago to raise funds to build the Youth Transition Center in Vero Beach for youth who age out of the foster care system. In June 2009, the Kresge Foundation issued a challenge to CHS to raise $4.5 million by June 30, 2010 , which was accomplished by the deadline earlier this year.
"We are so thankful to all of the donors and supporters that made the Youth Transition Center a reality," says Marta Schneider, Co-Chair of the Youth Transition Center (YTC) Capital Campaign and Chair of the Indian River County CHS Board of Directors.
"In Florida this year alone, approximately 800 foster children will become too old for foster care; 50 of which on the Treasure Coast will lose almost all state benefits on their eighteenth birthday," says Jan Huffert, Executive Director of CHS Treasure Coast Division. "The Treasure Coast division of CHS is among the first CHS divisions in the state to provide youth aging out of foster care with a transitional living program that includes affordable housing. The YTC is important to so many – the state, the Treasure Coast community, but most of all, the youth."
The Youth Transition Center officially opened its doors January 17, 2010. Located on the Vero Beach Campus, the Center provides independent living apartments for young adults, ages 18-23, enrolled in the Treasure Coast Division's Transitional Living Program who are transitioning into adulthood out of the foster care system. There are currently 80 young adults enrolled in the Transitional Living Program.