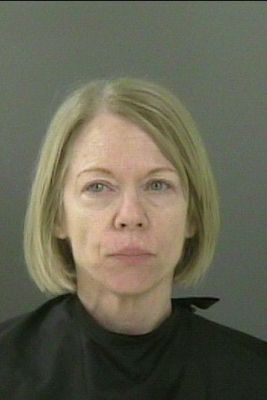 SEBASTIAN – Former Sebastian City Councilwoman Carolyn Corum has been arrested on a charge of disorderly intoxication, the Sebastian Police Department announced Tuesday.
According to the police department, officers responded to Sebastian Gym, on County Road 512, on Monday after employees called about an intoxicated woman causing a disturbance in the gym. Police spokesman Officer Steve Marcinik said in the department's release, that officers initially intended to take the woman, identified as Corum, home.
However, Corum became verbally abusive to the gym's staff and physically resistive to the officer who tried to escort her out of the building.
Gym personnel told the officer that their attention was drawn to Corum during a class in the gym where she was observed to be stumbling and uncharacteristically uncoordinated, according to the report.
When the class instructor approached her, staff told the officer, the instructor smelled an odor of alcohol emanating from Corum.
Corum, according to the instructor, said that she had a glass of wine at a friend's house.
"Gym personnel requested that she leave the gym out of great concern for her safety," the report states.
Corum refused to leave, resulting in the Sebastian Police Department being notified.   Corum initially was not cooperative with the officer but then agreed to be escorted to gather her personal belongings.
Officers had made arrangements to provide her a safe ride home, but before she was out of the gym she became verbally abusive to gym personnel and physically resistive to the officer escorting her out.
Additional officers responded to assist in the escort of Corum due to her uncooperative demeanor and to prevent her from injuring herself, according to the report.
Corum faces a misdemeanor charge of disorderly intoxication and has been released from the county jail on $500 bond.