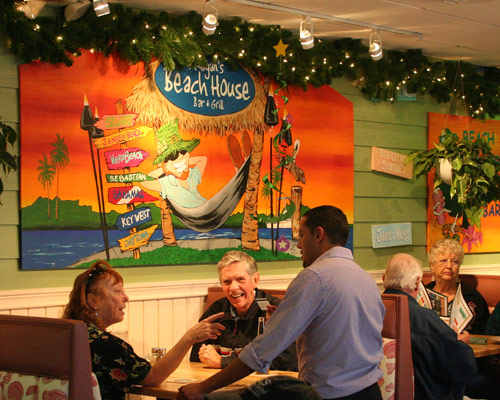 SEBASTIAN — The much-anticipated Mulligan's Beach House Bar and Grill opened its doors over the weekend, just in time for Sebastian's Annual Light Up Night and Christmas Parade.
Restauranteur George Hart said the eatery opened at about Noon Friday and had been hopping ever since. Approximately 60 people were hired to work at the restaurant.
The hostess said Friday evening that despite the mass of people coming for food, the waits for tables had been short – about 10 to 15 minutes.
"We're excited to be here," Hart said, adding that the opening went "relatively smoothly."
Waiting for a table for six was the Petticrew-Stokes family, who had never dined at a Mulligan's restaurant before.
"We have no expectations," Pam Petticrew said.
Mike and Mary Stokes said they were excited about the Mulligan's opening, which would give them another restaurant to try out.
Being Sebastian residents for years, they said they've dined at just about every eatery in town.
"We're very glad it's opened," said Marshall Rose, who was dining with his family on the covered deck overlooking the water.
He added that he felt the restaurant, once known as Mike's Hula Grill, had been closed for too long.
His party had yet to receive their entrees but had already dined on appetizers, including shrimp quesadillas and the fried trio plate.
"They have great margaritas," Kristin Proth said.
Also dining with them was Pat Rose, Mark Spradling, John Sheehan of Vermont, and Ron and Jessica Hall with 5-year-old Jordan Hall.
Mulligan's is known for hosting Thursday Family Nights as fund-raisers for community groups. This Thursday, Mulligan's is throwing "Grinchmas" a fund-raiser for Toys For Tots. The restaurant also will be donating $5,000 to Sebastian River High School's Athletic Department.
Mulligan's is located on Indian River Drive north of Riverview Park. It is opened for breakfast, lunch and dinner. More information can be found at www.MulligansRestaurant.net.