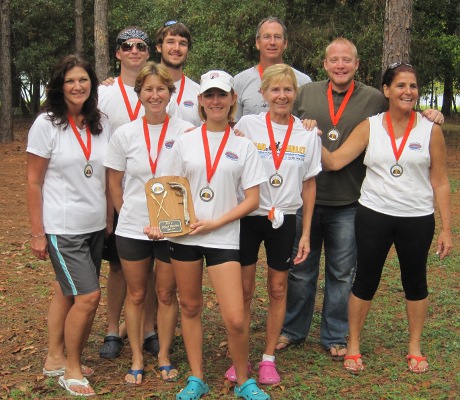 VERO BEACH – The Indian River Rowing Club has recently won its first mixed masters 8+ race at the Head of the Giblet Regatta at Turkey Lake in Orlando Florida on November 20th.
The eight person mixed boat was led by Coxswain, Allison Snyder and masters rowers, Todd Young, Clayton Yost, Joel Kincaid, Coach Tom Lange, Pamela Yost, Shotsi Lajoie, Barney Barnes and Susan Robichand. The masters boat varied in ages from 19 through 61 which had a mother and son (Pamela and Clayton Yost) combination.
The course was 5000 meters long and the winning time 21:29.
The Indian River Rowing Club is a non-profit organization whose mission is to encourage and promote rowing in Indian River County, Florida. They currently row at the C-54 canal in Fellsmere and invite all to come out and row.
Information:  Visit http://indianriverrowingclub.com.