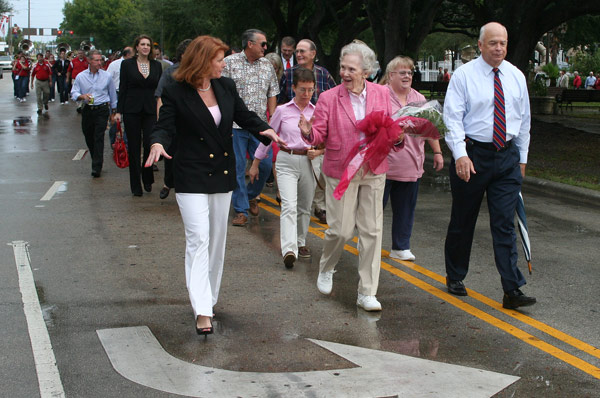 INDIAN RIVER COUNTY — Overwhelmed. Grateful. Awesome. A few words that Alma Lee Loy used to describe how she feels about the Indian River County Chamber of Commerce building named for her.
"There are so many wonderful people," she said, standing outside the newly named building. "I've had the opportunity to work with hundreds and hundreds."
A few hundred people turned out for the dedication ceremony Tuesday morning and pay tribute to her commitment to the community.
"This is a real special day for us in Indian River County as we honor Alma Lee Loy," said Linda Schlitt Gonzalez, chair of the board of directors at the Chamber.
For 50 years, Loy has been an integral part of the county, serving as the first woman chair of the Chamber, the first woman to be elected to the Board of County Commissioners, and much more.
Penny Chandler, president of the Chamber, said that many of Loy's contributions are things the community takes for granted today, including Barber Bridge and several parks.
"She is such a great leader in the community," Chandler said of Loy. "It is an honor for us to have her name on the building. We're very excited."
Loy was so honored, in part, for her role in raising enough funds to construct the new Chamber building, atop the site where Loy and fellow community activist Dan Richardson helped to build a larger office so many years ago.
"My heart was palpitating at the time," Immediate Past Chair of the Chamber Bill Curtis said of when the Chamber underwent the capital campaign for the building. "My heart was really palpitating at the luncheon" where the last $60,000 was raised in 60 minutes.
"We deeply appreciate that you made it possible," Curtis said, addressing Loy. "This is a great lady."
The ceremony included a short parade from the Heritage Center to the Chamber building, with Loy leading the way. She declined to ride in a vehicle and, instead, opted to wear tennis shoes and walk alongside friends and family.
She told the audience that the naming of the building is meaningful for more than just herself, but also for her family.
The act, she said, brings up a wealth of lifetime memories of the exact area where she spent so much time during her youth.
As a child, she played at Pocahontas Park. A little bit older, she played tennis in the nearby courts. Her high school prom was held at the Heritage Center.
"You didn't come here today for a history lesson," Loy said, adding that she hopes the community can understand why she is so committed to the area. {igallery 308}