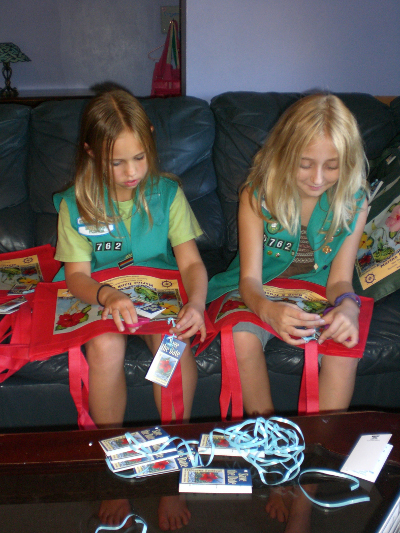 VERO BEACH — Alannah McDaniel (9 years old) and Calli Nugent (10 years old), do not take their Girl Scout responsibilities lightly.  Citrus Elementary School students and members of Troupe 50762, the girls spent one weekend recently to help out with the 2011 Hibiscus Festival.  They tied "Save the Date Cards" (printed by ABC Schumann Printing with graphics by Fat Cat Graphics) on 300 environmentally friendly shopping bags that will be sold in the months ahead.  The "Save the Date Cards" on the bags, which are sponsored by Marine Bank and Trust, remind the community that the Miss Hibiscus Pageant will be held on April 15 and Festival Day is April 16, 2011.
The $5 bags, a fundraiser for the Festival, boast original art by Barbara Sharp and are available at both Marine Bank locations on Beachland Boulevard and on US Highway 1, The Citrus Museum at the Heritage Center, the Main Street Vero Beach office located at the Cultural Council on 14th Avenue, and at Tropic Art and Frame also located on 14th Avenue in historic Downtown Vero Beach.
According to their Troupe Leader, Tiffany Nugent, the community service hours volunteered by Ms. McDaniel and Ms. Nugent meet their service requirements by the United Way.
Information:  visit www.Hibiscus Festival.org or call 772-480-8353.