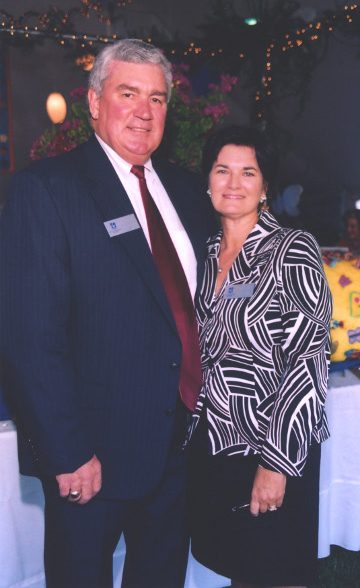 VERO BEACH — On Tuesday, November 23 at 8:45 a.m. Saint Edward's School will hold a special all-school assembly in the Waxlax Theatre for the Performing Arts to honor Saint Edward's faculty member Joanie Wachter and Head of the Upper School, Bruce Wachter. The naming of the Wachter Activity Center was initiated by long-time Saint Edward's supporters, Lorne and Heidi Waxlax of Vero Beach. In recognition of a significant gift made by the Waxlax family to Saint Edward's School's Pirate Fund for debt relief, they asked Saint Edward's to name the Activity Center in honor of Joanie and Bruce Wachter.
Lorne and Heidi Waxlax have been extremely generous donors and always enthusiastic supporters of the School and of the work done by faculty and staff. Joanie and Bruce have been instrumental figures in the lives of so many children for over three decades. The Waxlax children, Robert (class of 2000), and Christina (class of 2004), attended Saint Edward's and were beneficiaries of the enormous love and skill of these two wonderful educators.
Joanie Wachter is a Faculty member in the Lower School and has taught at Saint Edward's since 1973. She is the Lower School Technology Coordinator and has been the recipient of the Richardson Family Foundation Chair in Distinctive Teaching.
Bruce Wachter is the Head of the Upper School and the Associate Head of School. Bruce has been teaching, coaching and leading Saint Edward's since 1973. He has held the position of Interim Head of School, Head of the Middle School, Athletic Director and Assistant Varsity Football Coach as well as many other coaching positions. Joanie and Bruce have two children, Dr. Carrie Wachter Morris '96 and Amy Wachter '00.