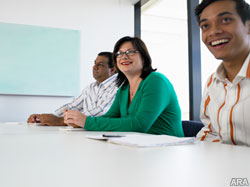 (ARA) – Class is always in session if you're a company looking to gain a strategic edge in hiring entry-level college graduates. The pool of work-ready college graduates is as high as ever, but current financial conditions have forced the bar even higher for companies looking to hire.
One way to make sure that job candidates are ready to produce when they graduate is to bring your company to the classroom. There's no need for CEOs to hit the white erase board, but it is a good idea for your company to reach out to various local colleges and begin to work on tailoring a curriculum that meets your business needs.
"Public, private and proprietary colleges have been working with industry professionals for years," says Robert Pope, president of Brown Mackie College – San Antonio. "But if you're a company that has never worked with a higher education institution on programs meant to meet your organizations' human resources needs, here are three tips to get you started."
1. Determine what educational need you want to address.
Establishing your needs beforehand will help you better understand the type of employee you need. Employers should consider the type of skill sets their employees need to have, the type of equipment or software programs they will be using on a day-to-day basis and any types of certifications they may need to prepare them for on-the-job tasks. By conducting and documenting an audit of the types of tasks you will expect your employees to complete, you will know exactly the type of experience and educational background you are seeking in potential employees.
2. Join a program advisory committee.
Now that you've established the skill set your employees will need, seek out colleges that offer program advisory committees on their campuses. These committees invite local business owners to provide feedback about the curriculum, supplies and the key areas of focus students interested in particular industries should have before entering the workforce and potentially applying for a job with your company.
Partnering with local colleges to assist in planning a curriculum creates efficiency in the education system and ensures that students are learning the exact skills they need to work in high-demand, sometimes technical industries.
3. Start an externship program.
A key component of many college courses is the externship, or supervised practice performed in a real-world work setting, outside the classroom. Business owners should consider establishing an externship program that would provide students with a first-hand look at the expectations of the job they'd like to have upon graduation. You would also provide students with a network of contacts that they may not otherwise have.
Externships benefit the employer through lower-than-standard labor costs. In addition, you might spot a future employee with whom you want to maintain contact and potentially hire. Think of the externship as a trial run that can help you avert a costly hiring mistake.
Upon completion of a degree program, career counselors, and students can leverage the partnerships created with you and other employers to place students into a job that caters to the interests and educational background of the student.
At the current crossroads in the U.S. economy, many employers, students and educators are re-thinking higher education and arriving at the conclusion that now is the time for an approach that is more practical and less theoretical. Active partnerships between industry and education are an obvious way for the "customer" (the employer) to a get a "product" (the college graduate) that is better suited to the employer's specific needs.
If you are an employer who needs a pool of well-prepared graduates from which to hire, take a positive step forward by contacting a college near you and starting a dialog about your human resources needs.