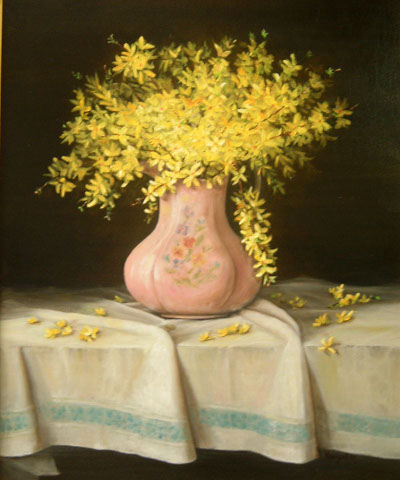 VERP BEACH — The Artists Guild Gallery proudly presents "Serenity," works in oil by Judith Ragusa, on view December 1 through December 30.   An Opening Reception, which is free and open to the public, will be held Friday, December 3 from 5 to 8 p.m.
Born in Brooklyn and a former resident of both New Jersey and Manhattan, Judith Ragusa recently moved to Vero Beach and has begun immersing herself in the art scene here on the Treasure Coast.  Previously she worked from her studio at the Monroe Arts Center in Hoboken, New Jersey, and has been represented by galleries in Boston, Provincetown, Cape Cod, New Jersey and the New York tri-state area.  She has had several solo shows as well as numerous group exhibitions, and has earned numerous awards for her oil paintings.  She currently holds memberships in the Vero Beach Art Club and the Vero Beach Museum of Art.
Judith will be showing a large body of her still life works, in addition to other subjects in oil.  She is a classically-trained oil painter, studying with such masters as David Leffel and Sherrie McGraw of the Art Students League of New York, as well as at the Ridgewood Art Institute in Ridgewood, New Jersey.   She creates her exquisite still life paintings in the dramatic Chiaroscuro style, reminiscent of the Dutch Masters' dramatic contrasts, giving her work a spirit of quiet strength and timeless beauty.  "To me," says Judith, "There is an element of serenity in still life paintings, as light travels over objects, casting shadows and creating the illusion of both mystery and tranquility.  To really see the beauty of it all, one much search far beyond the obvious."  Gazing at a Judith Ragusa still life oil painting is a visual journey into the essence of light-a journey best taken at an unhurried pace.
New works by other Gallery Artists and Consignors will also be on display in a vast array of styles and mediums, including sculpture, ceramics, jewelry, pottery, glass and prints.
The Gallery is located at 1974 14th Avenue in Vero Beach, and hours are Monday through Friday 10:00 a.m. to 5:00 p.m., and Saturday from 11:00 a.m. to 3:00 p.m., and by special appointment.
For further information and for the Gallery art class schedule, call 772-299-1234, or visit the gallery online at www.artistsguildgalleryverobeach.com.