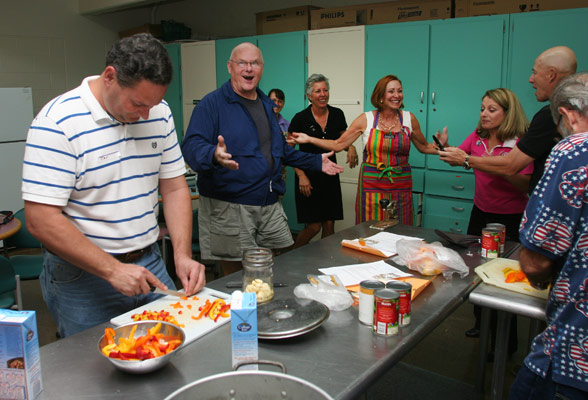 VERO BEACH — The rivalry between the City of Vero Beach and the Indian River Board of County Commissioners just got a little spicier — the two boards are facing off with their best chili recipes Saturday at the Firefighter Chili Cookoff at Pointe West.
Thursday was production day for both elected boards and, though their styles and ingredients varied, both groups produced more than the 10 gallons of chili required to enter the competition. The City of Vero Beach has never participated in this popular charity event before, but Commissioner Bob Solari challenged the newly elected City Council shortly after members were sworn in on Monday. Newly minted Mayor Jay Kramer confidently accepted the challenge and Councilman Brian Heady got to work organizing the production line.
"It's a fresh start," Kramer said. "And I think we might have to allocate some money for a trophy case."
The Vero City Council took advantage of the kitchen at the city-owned Community Center on 14th Avenue.
"I'm having one of those 'why didn't I think of that?' moments," Commissioner Bob Solari said. "They got one up on us and thought of using a government facility to do the cooking." The commissioner stopped by to crash the city's chili-making party at the Vero Beach Community Center.
Councilman Brian Heady and Mayor Kramer and his wife, Alla, later returned the favor by crashing the chili-making party at Solari's house that evening.
Kramer had to exit the kitchen, however, as the strong onions proved too much for him. As he was leaving – eyes red and tearing — it was joked that he was crying because he'd only just then realized that he'd been elected Mayor of the embattled City of Vero Beach.
Vero and the county will compete in the government competition for a trophy and bragging rights. One of the chilis could also be chosen in the finals or as the winner of best overall. Judges do a blind tasting of all the chilis and choose the ones they think are the best.
Vero's entry will be Heady's creation, a Citrus Chicken Chili flavored with a hint of local Indian River citrus and topped with cheese and sour cream. Vero is also entering a fresh citrus and cilantro salsa in the event's new salsa competition this year.The city also plans to have the best-looking booth, with Councilwoman Tracy Carroll in charge of decorating the tent and are that will welcome tasters to sample the tasty concoction.
The county's chili — Solari's recipe this year — is a more traditional chili, but kicked up a notch with extra garlic and spicy, Italian sausage.
"Of course our chili is more on the traditional side, we're Conservatives over at the county," Solari said. "We do things the way our parents and grandparents before us did them."
For example, instead of canned beans, Solari soaked pots and pots of beans overnight Wednesday night and a few even expanded over the rims of the pots, leaving one of the county's chief "bean counters" to the task of bean-picker-upper Thursday morning.
This will be the third year that the county has participated. Commissioner Wesley Davis explained that he started the tradition while he was chair of the commission.
"When we started this, I have to say that I was comfortable enough in my position to delegate a responsibility as important as chili," Davis joked.
Commissioner Peter O'Bryan took up the gauntlet and he and his wife Susan made the entire batch of chili at their home last year. This year, Commissioner Bob Solari invited everyone over to his house to make the chili. While O'Bryan chopped massive quantities of garlic and onions, Solari did the frying and mixing — on a gas stove.
"Of course I'm cooking with gas, I can't afford to do it with Vero city electric," Solari said, not being able to resist the chance to get in a dig in regarding the Vero Beach Electric Utility. "They used city electric at the Community Center, but they probably didn't charge themselves for it."
As part of the City of Vero team, utility activist Glenn Heran showed up for a few minutes to chop ingredients.
"I'm the public input," Heran said, when asked about his reason for being there.
Though the county commissioners tackled the chili on their own, the Vero Beach City Council had some help on this Veteran's Day holiday from top staff. Interim City Manager Monte Falls and City Attorney Charles Vitunac were on hand in the kitchen — Falls was chopping and Vitunac observed and took some photos.
"I'm here to make sure they don't violate the Sunshine Law," Vitunac said of his official capacity at the gathering.
"In addition to making sure the council members don't violate Sunshine, I'm here to make sure that they have anything and all the information they need to make things go smoothly," Falls said.
Solari scoffed at the presence of Falls and Vitunac.
"At the county, we have a more self-sufficient philosophy, there are certain things that can be done without staff," he joked. "We feel that something as important as makind chili is a policy issue."
Solari said he was not at all concerned that the members would break Sunshine by being in the same house together cooking chili. Though laughter, friendly ribbing and storytelling filled the rooms of the Solari home Thursday night, nothing that was being discussed by the commissioners and their wives sounded even remotely like official business.
While sharing the kitchen with his Vice Chairman, O'Bryan reminded Solari that the county has some pretty big expectations for the event.
"The pressure is on Commissioner Solari this year, last year we trophied out, we came home with the trophy for second place overall," O'Bryan said.
Solari countered, chding O'Bryan that it's not always about winning or losing.
"I think what we're losing sight of here is that it's about leadership," Solari said. "I feel like a victory has already been won by extending the hand and inviting the City of Vero Beach to the table to participate and by them taking that hand so firmly, I see this as the beginning of a great, new partnership being fostered between the city and the county."
Kramer said the chili cook-off is not only a great chance for the city to support a worthwhile community event, but that it's the perfect thing for the post-election "clean sweep" city council with four new members to bond.
"You've gotta build a little camaraderie and teamwork," Kramer said. "Though it might not be any council business, it's a way for us to interact together and work with each other."
When asked if he thought the city's chili would offer sufficient heat for the judges and patrons at Saturday's chili cook-off, Kramer offered a double entendre, referring to some of the nasty business which may lie ahead for him and his four cohorts on the dais.
"I don't think you have to worry about spices, it will probably get hot enough later on," Kramer said.
VIDEO: Commissioners and Council members prepare chili