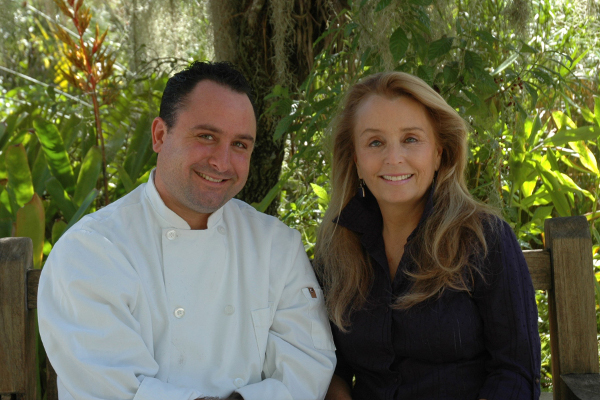 VERO BEACH – – For more than 26 years, Elizabeth D. Kennedy & Co. has been applauded as one of Vero Beach's top catering, party planning and home bistro services.  Now, Kennedy and her team are bringing that expertise to McKee Botanical Garden as the new operators of the on-site Garden Café.
"I am thrilled to partner with McKee Botanical Garden in this exciting new collaboration," explained Kennedy.  "We are longtime corporate members of McKee, and I look forward to inviting my clients to lunch and to host parties and events in this beautiful, unique setting."
The Garden Café is open Tuesday through Saturday, 11:30 a.m. to 2:30 p.m., and Sunday, noon to 2:30 p.m., offering upscale brunch, salad, lunch and dessert options.  A children's menu also is available featuring kid-friendly favorites.
"Elizabeth Kennedy's name is synonymous in Vero Beach with delicious, inventive cuisine and attention to detail," said McKee Botanical Garden Executive Director Christine Hobart.  "We couldn't be more pleased about bringing her on board for our Garden Café and as McKee's exclusive caterer."
In addition to serving lunch daily, the Garden Café is available to be rented for dinner parties from 10 to 500 attendees; Kennedy will provide catering for all on-site weddings.
Kennedy's head chef for the Garden Café is Ned Nichols, best known in Vero Beach for founding The Red Onion Eatery on Ocean Drive.
The mission of McKee Botanical Garden is to nurture and enhance a historic garden in a unique tropical setting for the education, enjoyment and enrichment of all.
General admission fees are $9 adults, $8 seniors and $5 children ages 3 to 12. Admission is free for members and children under 3.
The Garden is open Tuesday through Saturday, 10 a.m. to 5 p.m. and Sunday, noon to 5 p.m. Information:  Call 772-794-0601 or visit www.mckeegarden.org.