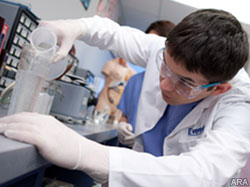 Whether you are currently studying to become a pharmacy technician or you have worked in the industry for a while, obtaining a pharmacy technician certification could be the key to a fulfilling career.
"The pharmacy technician field is growing. The Bureau of Labor Statistics cites a 30 percent growth rate over the next 10 years for pharmacy technician positions," says Alaric Barber, master of business administration, certified pharmacy technician and pharmacy curriculum manager for Everest Colleges, Institutes and Universities. "There will definitely be a demand for certified pharmacy technicians with opportunities moving beyond the usual retail and hospital pharmacies. Pharmacy technicians with a certification can also go into rehabilitation and long term care facilities – even as instructors – and work in compounding pharmacies."
The most common reasons for becoming a certified pharmacy technician are for improved job opportunities, advancement, enhanced education and a well-earned respect in the industry.
What is a pharmacy technician?
The definition of a pharmacy technician varies from state to state. However the most common use of the position is an individual working under the supervision of a licensed pharmacist who assists in various activities. Those duties include preparing prescription medications, providing customer service, taking prescription requests, counting tablets, labeling bottles and performing administrative duties within a pharmacy setting.
How do I become a pharmacy technician?
Education and training are key. Currently, there is no national standardized training for pharmacy technicians. However, there are a number of pharmacy technician schools and training programs available nationwide. Most of the schools and programs are both programmatically and educationally accredited and range from six months to two years.
How do I get certified as a pharmacy technician?
Either a State Board of Pharmacy or the national Pharmacy Technician Certification Board (PTCB) currently awards competency for pharmacy technician certification. Requirements vary in each state. Candidates should know that even with certification, many states might require additional licensing.
How do I prepare for the pharmacy technician certification exam?
The best way to prepare for the pharmacy technician certification exam is through completion of an accredited program. For existing pharmacy technicians, a PTCB refresher course is also available, as well as a number of books that can help participants prepare for the test.
"Most candidates are worried about their mathematics," says Barber. "It's really just basic math – addition, subtraction, multiplication, division, percentage and basic algebraic formulas. Some people have a fear of mathematics, even balancing their checkbooks. There's no reason. If a candidate is still concerned about passing the math portion, there are many tutoring services available."
One of the other major concerns candidates have when preparing for these certification tests, according to Barber, is remembering all the drug names. He suggests the following tips in preparation for any state or PTCB certification exam:
* Brush up on basic mathematics functions.
* Study the pharmaceutical drug names – both brand and generics.
* Take a refresher course.
* Find and review books and published study guides.
* Take a practice exam.
* Get plenty of rest and nourishment right before the test.
Upon graduation, certification as a certified pharmacy technician (CPhT) is granted through the Pharmacy Technician Certification Board. PTCB is the only nationally recognized certification body. Certification is valid for two years and requires 20 contact hours of pharmacy-related continuing education.