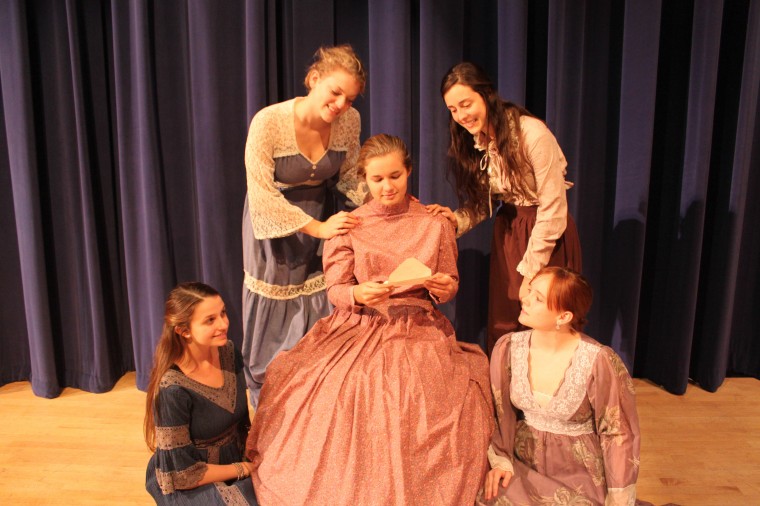 VERO BEACH — Saint Edward's School announces the opening of Little Women, The Musical, on Friday, October 29 at 7:30 p.m. at the Waxlax Center for the Performing Arts located on the Saint Edward's School campus.   Additional performances will be held on Saturday, October 30 at 2:00 p.m. in the afternoon and at 7:00 p.m. in the evening.
Based on Louisa May Alcott's classic novel about four sisters – the tomboy, the beauty, the sensitive child and the baby of the family – this humorous and touching production is certain to make you smile.
Little Women, The Musical first appeared on Broadway in 2005 and has since become a hit with children and families across the country.
This classic and warm-hearted production stars Saint Edward's Seniors Abbie Duquette as the  headstrong Jo March, Grace Langstaff as older and sensible sister Meg, Kate Weeks as the delicate Beth, Hannah Lambert as self centered Amy and Stacey Oswald as the matriarch of the March family, Marmee.
Other members of the cast include Elizabeth Sockol as straight laced Aunt March, Max Lipkin as the impetuous Laurie Laurence,Scott Schubel as Professor Bhaer and Jordan Canaveri as the stodgy old
Mr. Laurence.  Rounding out the cast are Cara Bruggeman, Megan Cook, Ethan Klein, Victoria Mangiapani, Emily Salvador, and Jamari Williams.
Little Women, The Musical marks local director and instructor Maggie Baker's Saint Edward's directorial debut and features the talents of Saint Edward's Choir Director Daniel Koh as Musical Director. Riverside Children's Theatre former director, Jeremy Baker, is production designer.
Whether you are a classicist, a lover of American literature or just looking for superior family entertainment, this production is sure to please the entire family.
Tickets are $10 for adults and $5 for students and seniors.  Tickets may be purchased at the door or in advance through Ticket Alternative at ticketalternative.com or 1-877-725-8849.
Information:  Visit www.steds.org.