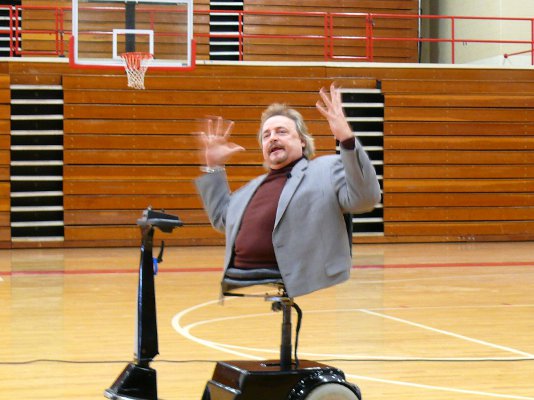 INDIAN RIVER COUNTY — Motivational and inspirational speaker, Mr. Ron Bachman, has been addressing the topic of bullying in schools, as well as, overcoming adversity and accepting people. Ron, who had his legs amputated as a child due to a birth defect, has captivated the attention of students who have packed auditoriums across the country. Ron is speaking to the kids about overcoming adversity, dealing with bullies, understanding the power of words and accepting others, as well as, themselves. He is truly changing lives.
His program produces:
·         Reduction in bullying
·         Greater student self-esteem
·         Increase in interpersonal skills
·         Understanding of the Power of Words
·         Diversity of information related to able-bodied and disabled students
·         Healthier behaviors within school
·         Stronger student connections to teachers and administrators
·         Focused student efforts on breaking stereotypes
·         Better concentration in the classroom
Brought to the community by Vero Beach Chrysler Jeep Dodge, Ron will be visiting Gifford Middle School, Oslo Middle School, Saint Edward's School, Sebastian River Middle School, and Storm Grove Middle School the week of February 22 – 25, 2011.
For information on Ron Bachman visit www.ronbachman.net.
For information on the Education Foundation of Indian River County call (772) 564-0034 or visit: www.edfoundationirc.org.