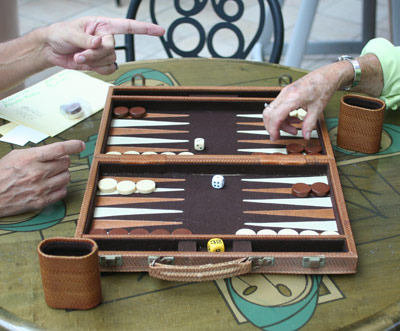 INDIAN RIVER COUNTY – A group of backgammon players are taking to Indian River Mall in hopes of attracting impromptu games and camaraderie.
Jerry Nashel, a county resident, hopes to get fellow backgammon enthusiasts out to the mall on Sundays, starting at 2 p.m.
"We haven't had the right place or time," Nashel said, explaining that this is his second or third time now trying to organize a backgammon gathering.
It's not a club, according to Nashel. No dues. No fees. No president.
"If you want to play bridge, you could play seven days a week," Nashel said of Indian River County.
Backgammon – not so much.
"Now, you've got a place to go" to play backgammon.
Backgammon is considered one of the oldest of the board games where game pieces are moved based on the role of the dice.
Barbara Kilpatrick, a Vero Beach resident, came out to the inaugural gathering Sunday afternoon to get in a game of backgammon.
"I haven't played in awhile," Kilpatrick said, adding that it's been about two years since she last picked up the cup, dropped the dice in and shook them onto the board.
The attraction of the classic board game for Kilpatrick is how quickly the game can be played – 15 to 20 minutes.
"I like just about any game," she said, adding that this one "doesn't take much time" to play.
Nashel said it's been about a year since he last played a game of backgammon and welcomed playing against Kilpatrick, where they could play a friendly refresher course.
Nashel would like to see more people turn out to the Indian River Mall on Sundays to play a pickup game of backgammon.
If more show up, they could eventually play mini-tournaments.
"As big a factor as luck is in the game, it's easy for the ego to get involved," Nashel said. He suspects that those who come to play at the mall will do so for fun and in friendly competition, though some ego might appear.
Those who have never played or maybe played once upon a time a decade ago are welcome at the backgammon gathering, Nashel said, adding that the point is to provide a place where people who want to play – can.
Backgammon players looking for a place to meet fellow players and practice their skills can meet at the food court, near the fountain, at the Indian River Mall beginning Sundays at 2 p.m.
If enough people gather or stick around, Nashel said he plans to close down the mall at 6 p.m.
For more information about the Backgammon gathering, call Nashel at (772) 567-2566 or e-mail verojer@aol.com.