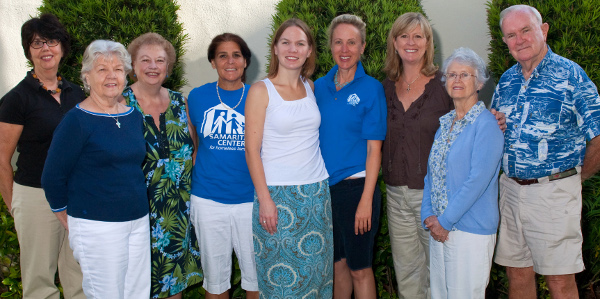 INDIAN RIVER COUNTY — Breaking bread together for the homeless has become a community ritual.  The 18th annual Samaritan Center Soup Bowl will be held county wide on Thursday, November 4 from 11: 30 a.m. to 1:30 p.m. and at evening locations from 4:30 to 6:30 p.m.  Check the Samaritan Center website, www.samaritancentervero.org, for the location nearest you.  Requested $5 donation for soup; $10 donation for handcrafted bowl.
Co-chairs Kristen Ashcroft and Shotsi Lajoie are facilitatating this community ritual.  60 restaurants are expected to supply 15 local places of worship with soup as they open their doors to the public where thousands participate. It is predicted that twenty five businesses will also invite the public and offer their own soup, last year 5000 were served.
The Vero Beach Museum of Art was the location of a workshop where over 1100 wheel thrown bowls were made by volunteer potters. These will be available at the public locations on November 4th, along with raffle tickets for handmade soup tureens, by artists; Glenda Taylor, Sharon Sexton, Sean Sexton, Richard Pierce, Sean Clinton and Maria Sparsis.
Tiger Lily Art Studios and Gallery, located at 1903 14th Avenue, will have the tureens on display from November 4 through the evening of December 3 when the winning tickets will be drawn.  Tickets will be sold until the drawing.
"Our slogan is, 'breaking bread together for the homeless,' said Kristen Ashcroft. "We are asking the whole county to participate."
"The Soup Bowl is a county ritual," said Shotsi Lajoie. "It's the first Thursday of November and we are now in our 18th year."
'Everyone is invited to our public locations and anyone who would be willing to expand outside of that and create their own gathering can do so.' added Kristin.
'Lee Moore is spearheading a campaign to increase private gatherings so they can send a donation to the Samaritan Center; you can contact her at 473-4162.'
If you are unable to attend Soup Bowl but would like to participate, visit the Donation page on www.samaritancentervero.org. Click on the Paypal icon to make a donation and enjoy "virtual soup"!
The Samaritan Center provides transitional housing for homeless families with dependent children in Indian River County. Samaritan Center is a program of Catholic Charities and an agency of the United Way. This event raises awareness and money towards the daily operating budget for homeless families in the Samaritan Center.
Information: Call 772-770-3039 or visit www.samaritancentervero.org