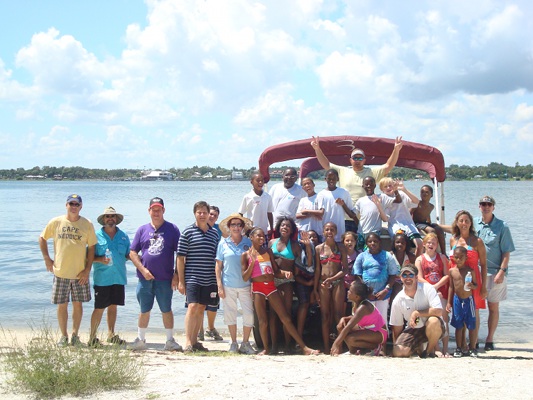 SEBASTIAN — Youth Guidance children and Sebastian Rotary Club volunteers had loads of fun during their Boat Ride and Island Picnic outing held on Saturday, September 11, on the Indian River.  The Rotary Club partnered with Youth Guidance for an exciting day of boating, swimming and barbequing.
The Gold Partner, a group that provides volunteers to pair with the kids for an activity and bears the cost, greeted the children with their boats at the twin docks in Sebastian.  Several of the Youth Guidance youngsters had never been on a boat and were amazed at the wildlife and beauty of the river.  The kids were boated to an island where they were matched with a Rotarian.  They searched the island and took a dip in the river before enjoying a picnic of hotdogs and hamburgers.  Several of the kids caught numerous fish using a cast net and the group also enjoyed other boat rides, navigating the surrounding islands.
The primary purpose of Youth Guidance is to match each of its nearly 700 at-risk K-
12 grade children with a volunteer mentor 21 years or older.  Mentors spend just a few
hours a week with their mentee doing friendship based activities that they both enjoy.
Information:  Visit www.ircyouth.com or call 772-770-5040.