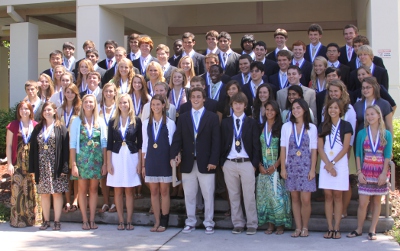 Sixty-one members of Saint Edward's Senior Class were recognized at the Senior Commissioning ceremony held on campus on September 8, 2010.  Chairman of the Board, Ron Edwards, who is the parent of a Saint Edward's Senior, and Mike Mersky, Head of School, addressed the Class of 2011 in the presence of their parents and the entire Upper School faculty and student body.
Also in attendance was the class of 2022, now 1st graders at Saint Edward's. Each first grade student is paired with a Senior student and the Senior Buddy relationship is cultivated during the School year through special gatherings and activities.
In his address, Mr. Mersky reminded the Class of 2011 that "This year is your year! This is your chance to leave an indelible mark, in a positive way, on Saint Edward's School, and what a unique gift of time you do have at your disposal."
The Senior Commissioning Ceremony is a dearly-held Pirate tradition where the Senior class is formally handed the leadership baton and recognized as leaders of the School's student body. "How will you, as a senior class, make your mark in the annals of Saint Edward's School lore?" Mr. Mersky asked the class of 2011. "Really great leaders give back much more than they take," he reminded them.
"Being a steward of this School means leaving a positive legacy and leaving a school community much better that you found it."
In closing Mr. Mersky quoted Teddy Roosevelt: "Leaders should visibly love their people more than their positions – and prove their love through their actions. Rather than seeking success, which is generally outside of one's control, a leader should seek to deserve success."