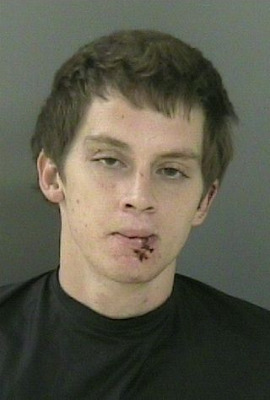 INDIAN RIVER COUNTY – The man authorities believe shot and killed another in Vero Lake Estates this week has admitted to pulling the trigger, the Sheriff's Office said.
The Sheriff's Office also released an arrest affidavit for the man, in which there are claims by a witness that the victim had gone to the home to buy marijuana. Bradford Winslow Vose, 21, of the 8000 block of 93rd Avenue, told a detective that he shot Joseph Farruggio (or Varruggio), the arrest report states. The report does not indicate why he shot the victim.
According to a witness, who was cited in the arrest report, he had been to Vose's home earlier in the day when he overheard a phone conversation between Vose and Farruggio. That conversation, he told investigators, sounded like Vose setting up a marijuana sale.
About an hour before Farruggio arrived, the witness left, he told authorities.
When the Sheriff's Office arrived shortly after 7 p.m. Wednesday, detectives found what looked like marijuana floating in the toilet bowl, the report states. Field tests indicated it was marijuana.
So far, Vose has been charged with felony marijuana possession with intent to sell and two counts of misdemeanor marijuana possession. He is being held at the county jail without bond.
More charges could be forthcoming.
This article will be updated as more information becomes available.
Originally published Sept. 8, 9:57 p.m.