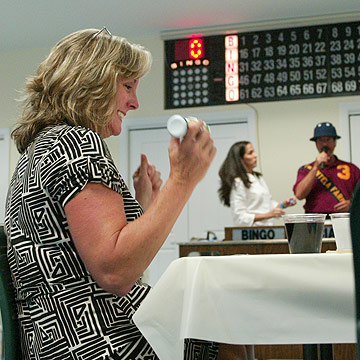 VERO BEACH — Bingo daubers at the ready, approximately 60 ladies peered over their bingo cards, their quiet concentration broken only as gleeful shouts of BINGO, rang out. After each game a collective breath was let out, accompanied by groans and laughter, as players relished the friendly competition.
The ladies had gathered for the first Girls Night Out – After Hours Bingo party, to benefit the Senior Resource Association.
Karen Deigl, SRA Executive Director credited Susan Haggard, SRA Marketing Manager with the concept, which is a simplified and more affordable version of their hugely popular Boxed Lunch Bingo annual fund-raiser.
"A new regulation was passed this summer that now requires Level 2 background checks, not only for all employees, but for all volunteers who work with seniors on a one-on-one basis," said Deigl. "Each one costs $55 and we don't want to impose that on our volunteers; we have more than 400 volunteers."
These Girls Night Out After Hours Bingo parties will help to fund the cost of the volunteer background checks. During the slower months, May through October, they plan to host the event on the first Wednesday of each month. The next one is planned for Wednesday, Oct. 6. 
A different "man in uniform" will be the caller each month. 
"Vinnie Parentela graciously accepted our invitation to be the first man in uniform caller," said Karen Deigl, Senior Resources Association Executive Director.
"It's an honor to be here," said Parentela, owner of Gold Coast Landscape Lighting, who was sporting his Parentela Farms polo gear. "I have no idea what to do, but I'm going to learn."
"He's a bingo virgin," laughed Haggard, who explained the process. As the balls pop up, they're called off and put into their respective slot, automatically lighting up the number on bingo boards on either end of the room.
But it wasn't just bingo. Guests also enjoyed wine and a buffet of goodies catered by Marie Smith Clancy.
Frosting Cupcakes on Cardinal drive donated cupcakes and iced 'bingo cookies' that were artfully decorated to look just like little bingo cards. At the end of the evening, in a twist from usual raffles, which give prizes as numbers are called, they held a reverse raffle, with the prize going the last number called.
Prizes were donated by area businesses, including from Vero Fashion Outlets and New Vision Eye Center.
The event was held in the newly renovated Senior Resource Association Schumann Hall Senior Center, which was reopened this past spring. The Center was completely refurbished, including floors, tables and chairs, and the sparkling new Thea's kitchen, named after Thea Walker.
In the Minotti Media Center, seniors can brush up on their computer skills, including classes on how to use Facebook.
"Seniors are now the highest demographic on Facebook," said Haggard. {igallery 254}